Think we'll see Air Pollution Cause Global Warming?
Is the earth really getting warmer, and does air pollution cause global warming as they say? Global warming is the well-established trend showing that the atmosphere surrounding the earth is heating up.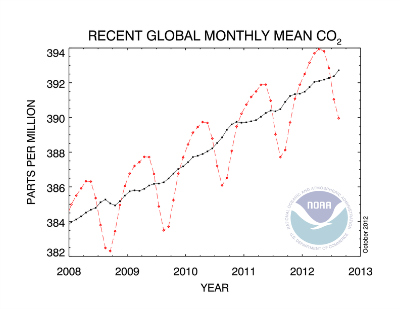 Even though it has its critics, there is some evidence that it has already taken place to some degree and it certainly seems logical enough. One of the main purported contributors to this global warming is the rise in air pollution recorded over recent centuries.
How does it work in the first place? Our earth has a layer of air around it known as the atmosphere. Its layers create what is popularly called a greenhouse effect.  Why call it that?   Long-wave radiation originating at the surface of the earth and travelling upward gets stopped by certain gases in the air above.  Some of this energy heads back down to the surface and becomes part of a cycle, and the net effect of this recycling is the gradual rising in the average surface temperature.  The name comes from an analogy to the glass in a greenhouse stopping the physical flow and escape of air from inside the glass building.
Our atmosphere also protects the earth from the harsh ultraviolet rays of the sun while forming this barrier that keeps the heat near the planet. Without this air surrounding the earth, the climate would be more like that of the moon, if you can say such a thing, and life would be impossible.
According to experts in air quality conservation, we have a number of common pollutants increasing the natural greenhouse effect that has been place for millions of years. The pollutants, which we call greenhouse gases, sometimes form from natural processes.
For instance:
Carbon dioxide is produced by volcanoes, combustion, animals breathing and by the decay of organic substances.
Methane gas, twenty-one times stronger than carbon dioxide as far as global warming is concerned, comes from bogs, animals, plants and swamps.
Nitrous oxide. Can this air pollution cause global warming? Yeah, it's over 300 times as powerful as carbon dioxide and emits from microbial processes and bacterial breakdown of nitrogen both on land and in water as well as natural fertilizers.
How can air pollution cause global warming when under natural conditions, these very same gases make an important part of the atmosphere? And...
Does Air Pollution Cause Global Warming?
The delicate balance of these gases could be upset by the addition of more gases produced when people burn fossil fuels to power cars, factories, and other "civilized" things.
The United States of America has had the worst emissions and has become one of the most obvious examples where we see air pollution cause global warming in the world. Other nations are growing in this area. And catching up.
If global warming turns out to become a problem, it could have serious consequences. For this reason, there have been a number of international air quality conferences to assess the situation and to discuss what can stem the tide. And if anything we do can help.
If the entire earth were to rise in temperature by only a few degrees, more polar ice caps would be expected to melt. And this would likely cause flooding in coastal cities worldwide as the sea level continued to rise.

These anticipated consequences were summed up quite neatly after a few years and presented by Al Gore in his 2006 blockbuster film, An Inconvenient Truth, where he relayed his passion and commitment for the process and the potential ramifications.

Another concern scientists have about global warming is that it could seriously impact agriculture. In this case, warmer temperatures, which might be good for crops in some areas, but it might also help insect pests thrive and eventually take over.  Do you think so?
Have I got the Wrong Idea?
Maybe you know something I don't. Something the world needs to hear about. This short website cannot include everything and if it's important to you, it's important to me.

So what's really the story with global warming? I'd like to know. If you have a picture, I'll even include it here. Try me.
What have those who came before you said?
Check below to see contributions from other visitors to this page...

A few closing thoughts
For a variety of reasons, it makes sense to try to use fewer fossil fuels, vote wisely, and even donate money to organizations devoted to air pollution cause global warming is even projected by some to lead to widespread death and destruction.
It has been a hot political issue in the States in recent decades though its position in the news has periodically been preempted by political and economic strife. Overall, everybody seems to have something to say, and some will try to convince you one way or another. Do your own research and think for yourself on this one.
Need a little help?  Here's the latest global warming news for your reference:
ADD TO OTHER SOCIAL BOOKMARKS:

Blink

Del.icio.us

Digg

Furl

Google

Simpy

Spurl

Technorati

Y! MyWeb