Get your meteorology university degree here!
Search for more about education.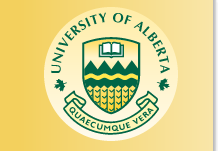 How to get a meteorology university degree - some people ask this one, as well as "where can I study meteorology?" I can tell you where I got mine.
This educational information in meteorology represents a typical program of study. Keep in mind that no two will be identical in all ways, but what follows are the basic parts to kick-start your career.

Here is a list of courses now offered at the University of Alberta, my Alma Mater where I got my meteorology university degree. It's located in Edmonton. Most of the titles and syllabuses have changed since I was there, though. The idea is to give you a general feel for this kind of curriculum.

You need good grades, starting immediately. To get into any science program at the U of A you need Matriculation Grade 12 English, Chemistry, Mathematics and Physics. And one of these.
Biology
Advanced Math, usually Calculus
Social Studies
Other Language
Fine Arts Subject (Art; Drama; Music)
Physical Geography
Other Science
We are NOT Geeks
At least that's what some people think. Do you think math helps us to understand our world? Succeed at work? Use a computer?

You bet. That reminds me, it can help make you a better gambler if you're so inclined.

What's the most important thing math helps you with?
What Other Great Mathemeticians Have Said...
Click below to see contributions from other visitors to this page...

College courses for your meteorology university degree
The meteorology university degree offices and my classes were held in this building: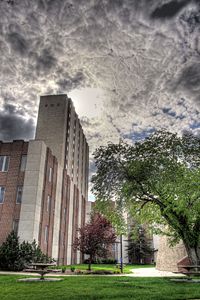 They have since moved over to this one.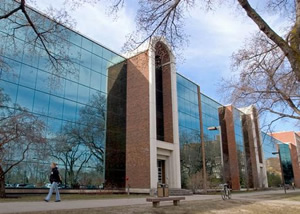 Environmental Physics I - Fundamental calculations such as concentrations, balances, lapse rates, exponential growth and decay. Also conduction, convection and radiation.

Introduction to Environmental Earth Science – Weather and climate. Atmospheric and ecological processes, hydrological cycle. Stuff in the Air issues such as storms and pollution. Many of these concepts are given with a Canadian perspective.

Violent Weather – All the fun stuff. Mesoscale meteorology. Tornadoes, hurricanes, hail and lightning. They are examined from both a scientific and safety viewpoint. Expect to find meteorology of storms tests and exercises.

Introduction to Computational Techniques in Earth and Atmospheric Sciences – Software and techniques. How math relates to meteorology. Spatial problems and computing experience.

The Atmosphere – Composition, temperature, air masses and weather maps.

Environmental Instrumentation – Lab course with a field trip. Electronics and instrument calibration and use. Data sampling theory.

Applied Atmospheric Physics – An analytical look at temperature, pressure, humidity, evaporation, condensation, dew, freezing, ice, frost, convection, clouds, rain, hail, rainbows, solar and terrestrial radiation. The importance of thermodynamics in meteorology.

Atmospheric Fluid Dynamics – How fluids flow around a rotating planet. Large scale meteorological concepts such as vorticity, jet streams, the atmospheric boundary layer, upper level waves and stability. One of the fundamentals for your meteorology degree.

Weather Analysis and Forecasting – What is synoptic meteorology? Weather maps and charts. Weather systems as well.

The Climate System – Radiation, the hydrological cycle, atmosphere-ocean interactions, climate history, change and feedback. Even some climate modeling.

Clouds and Storms – Cloud physics, droplets and precipitation, radar, and convection.

Atmospheric Modelling – General circulation models, numerical weather prediction, other models and various methods. The power of the computer in forecasting.

Advanced Climatology – Climate models and recent developments in climatology. Scientific land and air transactions.

The Atmospheric Boundary Layer – Turbulence and diffusion. Dimensional analysis and scales of motion. Similarity theories, disturbed windflows and plume dispersion modeling.

Advanced Clouds and Storms – Cloud physics. Ice formation, precipitation processes, weather modification, numerical cloud models and precipitation forecasting.

Climates and Ecosystems – Terrestrial environments in various climatic zones. Anthropogenic influences and effects on agriculture.
Meteorology Speciality
If you already have a science degree, you can get a Diploma in Meteorology at this institution. It would help you qualify to enter the federal operational meteorology program. Not all meteorology schools offer this choice.

It effectively adds a meteorology major to an existing degree after one year of study. Or, some would say, converts a general B. Sc. into a meteorology university degree.


Go back from
Meteorology University Degree
to the >
Weather Man
webpage, or
search
this site for
more information now.