Hello ,


Weather seasons change
What to do when the seasons change to autumn?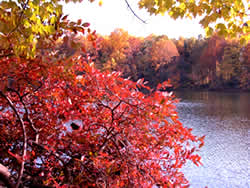 It is that time of year again, when seasons begin to change, we enjoy crisp fall air, the leaves start turning, and it is time to harvest squash, pumpkins, and other late blooming plants. It is also time to prepare for the coming winter. Here are a few things you should do during this time, to not only your home, but yourself as well as your vehicles.
Why think about it now?
This is often a time when the days are still warm or hot, but the nights can get downright chilly. The jet stream is changing, and more often cold air from the north is brought in instead of the warm tropical air from the south. One of the best things you can do at this time is make sure that you close all your house windows at night before going to bed. This can prevent that morning chill, as well as help keep you from catching that first fall cold.

Fall is also a good time to go around the house, checking all your windows and doors for cracks and other problems that can make your furnace work harder. In many cases, it is a simple matter of re-caulking edges, replacing weather stripping, etc. In some areas, you can even get local government agencies to come in and do a free energy audit to let you know exactly where your home is vulnerable.

Speaking of your furnace, this is one of the best times of the year to do routine maintenance on your furnace. Check and see if you need a furnace replacement air filter or belts, and this is one of the best times to have a professional come in and do an inspection. They can identify small problems before they become big ones. It is also much cheaper to have routine maintenance done now, than having to call someone in the dead of winter when your heater breaks down. One more to-do item: winterizing air conditioner.
Reliable Transportation
During the time when seasons change from summer to fall is also an excellent time to get your vehicle prepared. It is time to change to a lighter weight oil, to a higher antifreeze, and get those heater filters in your car or truck replaced as well. You should also go in and have the heater, wipers and motor, as well as the battery checked. Again, an ounce of prevention is worth a pound of cure. Preparing now can prevent you getting stranded later. Also, get the trailer, boat or RV ready for the off-season.

If you have some kind of emergency supplies set aside, this is also a great time to go through these. Make sure that your vehicle is equipped with supplies, flares, first aid kit, emergency food and blankets. It is also a good idea to check expiration dates, and replace items as necessary.

Autumn is also when children are going back to school, and here are some helpful tips and information. One, now that the kids are in school, the signs are once again announcing caution when approaching school zones, and it is important to get back into the habit of slowing down.

If you are going through clothes, make sure you think about those that are less fortunate, so instead of throwing these out, they should be donated to your local charities instead. This is also a great time to go through your pantry, and donate overstocked or unwanted food to local food banks.

The autumn air reminds us of the upcoming holiday breaks and events, such as Halloween, Thanksgiving, World Series and eventually Christmas. The season's change to cooler weather is a big part of our lives, for sure.