*** 20th Anniversary: 2003 to 2023 ***
Phase I and II onsite engineering and environmental impact assessments
Find more.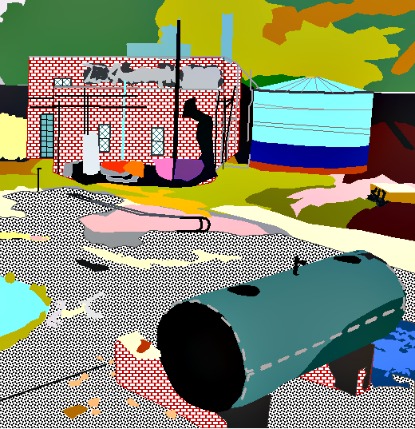 Why an onsite engineering and environmental assessment? If you're about to acquire or occupy property, you may just need one for your own peace of mind.

Concerned about the prospect of being held accountable for something you have no control over? The ecological ramifications of previous activity, especially industrial activity, on a property any company or client is considering using for business use can become a problem.
What can be done to prevent it? Due diligence assessments. See if the site is acceptable according to environmental legislation such as clean air clean water acts. It's all part of your due diligence, where you examine the situation closely before signing any contract.

The Phase I Site Assessment provides a relatively quick examination of the site, exploring its history, soil pictures and records including historic aerial photos. The engineers also check for specific contaminants, and find relevant data about previous and neighbouring operations.
In a Phase I, environmental engineers seek to find potential liabilities you would not otherwise know about. They could be found on the ground, the buildings or equipment located on the site.
The Phase II part of the assessment literally digs a little deeper, however soil samplers and groundwater analysis are only part of the picture. The purpose here is to detect polluting or controlled substances within the site. The process of assessment, which includes sampling, testing and analysis is well-defined and held to exacting standards in order to be defensible. That's how confidence is upheld.
There is also a Phase III. It spells out what to do if the site is contaminated and what remediation practices to put in place, as well as any necessary paperwork associated with it.

See information on air quality if that is also a concern.
Land ownership and Onsite engineering and Environmental Site Assessments
If your interests are in acquiring the real estate, a customized cost-effective onsite engineering and environmental audit may be better for you. The basic non-intrusive Phase I and more detailed Phases II and III structure remain in place.


Does the property have a facility that produces air emissions on it? You might do well to contact the atmospheric modelling division at Calvin Consulting Group Ltd., CCGL, about the atmospheric regulatory and compliance issues.
Please call Ann Jamieson at 403-547-7557. Looking for you next career move in this field? Some suitable environmental science jobs and environmental engineering careers can be found through the Environmental Health and Safety Jobs page.

If your firm's website needs to enhance its publicity, expose it to a larger number of influential individuals, consider this resource:

Make your site sell.


Search this site for more information now.