*** 20th Anniversary: 2003 to 2023 ***
The weather Canada pages
Who cares about the weather Canada experiences?  You just might.
First of all, Canada's vast geography and diverse climate make it a great place to explore weather phenomena.  From northern Arctic regions to temperate forests and coastal areas, Canadian weather provides a unique insight into the complexities of weather systems and their impact on ecosystems.  
Second, severe weather events like storms, hurricanes, and blizzards in Canada can be fascinating to learn about.  
Last but not least, understanding Canadian weather patterns is essential for outdoor adventures, agriculture, and planning daily routines in different regions.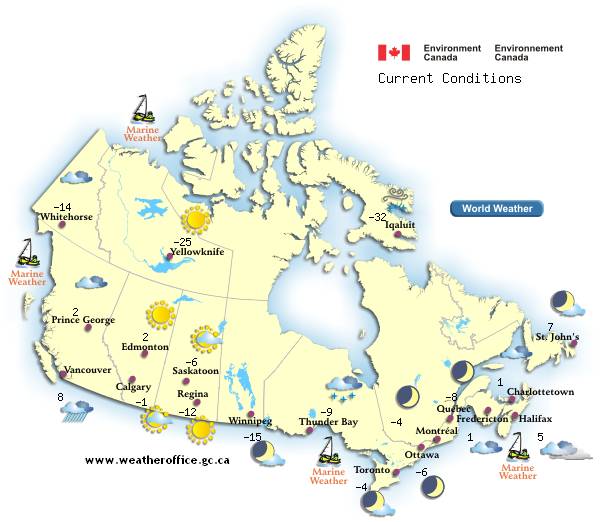 An early spring Canadian weather map.
Canada's weather is notorious.  This temperate zone is known for the cold and snow one would expect in the Northern Hemisphere.

By our standards, it's not always cold.  Summers can be pleasant, even hot, and we can even get warmer weather in winter on occasion.  West coast winters are surprisingly mild. 
How about finding specific weather data?  Let's see what's going on right now.
Weather information is provided by Environment and Climate Change Canada (ECCC) to the general public and the transportation sector.  EC weather forecasts are available online both on its main Weather Office Canada website and on NAV Canada.  NAV Canada's weather forecasts are made for aviation purposes, so they're not always the best or most accurate source of information for general weather.  In order to get the most accurate and up-to-date weather information, it's always best to consult multiple sources, including local news and official government channels.

Environmental regulation issues like weather modification are also handled by the Ministry of Environment and Climate Change Canada.

We get weather details like Canadian weather forecasts and recent observations from them.  We can also view long term forecasts on the Environmental Canada weather website.  The Canadian Centre for Climate Services (CCCS) provides Canadians with climate information and services.  In the CCCS, we get long-term climate outlooks, which show the expected temperature and precipitation trends for a given region over a longer timeframe.
You can see how the information is sorted by province and region with these links.  If you want to see what the weather's like in Alberta Canada, you can pick that area.  Explore and select the relevant portion of the Alberta weather page to see what the weather is like in Calgary, Edmonton, Medicine Hat and other cities 
Weather Network for weather Canada
In Canada, this English-speaking weather channel in Canada and its French counterpart, MétéoMédia, broadcast any weather forecast,
providing the needed information 24 hours per day.  The Canadian weather channel mixes forecasts with weather news and observations from Canadian weather stations, and their reports include maps, data, satellite and radar imagery analyses, and weather warnings.  With their Canada weather map, they create an updated Canada weather report for you.
Weather warnings and other important, official information are also disseminated by these forecasters.  Weather warnings help keep people safe and minimize the damage caused by severe weather events, so we take these warnings seriously to be prepared. 
Check out the page on this link for an informal (and humourous) interview with one of TWN's former broadcasters.   Here is a very brief weather almanac for Canada.  A meteorological history of Canada.
Here are the record high and low temperatures Canada has experienced over the last century:

Lytton, British Columbia, had the highest temperature in the country: 49.6 °C, 121.2 °F
The lowest Temperature in Canada: was -63.0 °C, -81.0 °F in Snag, Yukon, compared to -64.4 °C, -83.9 °F in Yakutsk, a city in Siberia.
Canadians normally have weather in the middle of these extremes, though we prefer one season over another.    And it ain't necessarily summer, as you might think.
We have a lot of skiers and hockey fans here.  Plus some snowbirds who like to spend their winters in Florida or Vegas.  You could even vacation on the islands of Canada.  Apparently, they're great places.
What else Happens around this Place?
Here are some of Canada's biggest weather events over the years:
-Numerous ice storms have hit Canada, especially in the eastern provinces, causing significant damage and power outages.  A major ice storm hit Ontario, Quebec, and New Brunswick in 1998, causing an estimated $5 billion in damage.
-There have been several deadly heatwaves in Canada, including the one that killed more than 90 people in Quebec in 2018.  There was another major heatwave in the Pacific Northwest in June 2021 (See the Lytton, BC temperature above), with record-breaking temperatures and devastating impacts on people and wildlife.
-Wildfires: Canada has a lot of wildfires, especially in Western Canada.  Over 590,000 hectares of land were burned in the Fort McMurray wildfires in 2016, causing more than $9 billion in damages and displacing over 88,000 people.
-Flooding is a common occurrence in Canada, especially in the spring and summer.  There were several deaths and $6 billion in damages from the 2013 Southern Alberta floods.
-Blizzards: Canada gets a lot of blizzards, especially in the east.  With over 80 cm of snow in parts of Nova Scotia, the "White Juan" storm in 2004 was one of the worst blizzards in recent history.
-Although Canada isn't known for tornadoes, it gets a lot of them.  It was one of the deadliest tornadoes in Canadian history, causing 27 deaths and $300 million in damages.
Extreme weather in Canada can have a big impact on communities and infrastructure.  But we're known for the cold
Experienced the cold?
Everybody knows Canada is cold. Always. What do you think?

This country never has summer. Or does it?

Ever been to Canada? Or some other northern place? Russia? Sweden? Alaska?

Antarctica??

Was it a shock?
Other cold weather examples
Look here to see contributions from other visitors to this page...

Use this link to see some other interesting weather Canada facts.
ADD TO OTHER SOCIAL BOOKMARKS:

Del.icio.us

Digg

Spurl