The weather Canada pages
Does the world wonder about the weather Canada experiences?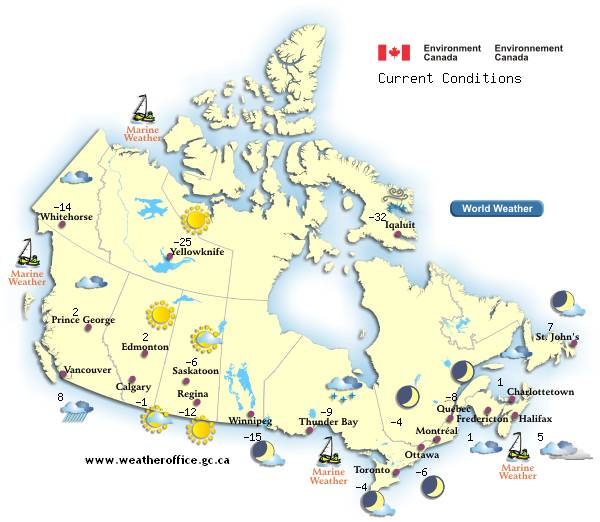 Sample map from early spring.
The weather in Canada is notorious.  We are certainly known for being located far in the Northern Hemisphere...and for the cold and snow one would expect in this temperate zone.
But, by our standards, it isn't ALWAYS cold.  Of course our summers have pleasant, even hot periods and we can even get warmer weather in winter on occasion.  The winter climate on the west coast is surprisingly mild.  So how about finding specific weather data? We'll start with current weather.
Our federal agency, Environment Canada weather, provides the general public and the transportation sector with necessary weather particulars.  Online options for seeing EC weather forecasts include both its main Weather Office Canada website and the NAV Canada webpage. The Ministry of Environment Canada also handles federal regulatory environmental issues such as weather modification.
They provide us with weather details such as Canadian weather forecast data and recent observations. Environmental Canada weather web pages also enable us to view long term forecasts when we need them.
With these links you can see how the information they present is sorted by province and region? For example, if you wanted to see what kind of weather Alberta Canada is about to experience, you could select that geographical area. Find out what weather Calgary, Edmonton, Medicine Hat and other cities there have in store by exploring and selecting the relevant portion of the Alberta weather page.
Weather Network for weather Canada
This English speaking weather channel in Canada and its French counterpart, MétéoMédia, broadcast any weather forecast in Canada,
providing the needed information 24 hours per day. Either Canadian weather channel will mix forecasts with weather news or official observations from Canadian weather stations, and their reports include maps and data, satellite and radar imagery analyses, plus weather warnings. They use their Canada weather map and create an updated Canada weather report for you, using whichever details are needed.
These forecasters also disseminate Government of Canada weather warnings and other important, official information. Check the page on this link for an informal (and humourous) interview with one of their previous broadcast employees.   Here is a very brief weather almanac, Canada!  Your history of Canada from a meteorological point of view.
Here are the record high and low temperatures recorded at any weather station Canada has withstood over the last hundred years or so:
Highest Temperature in the country: 45.2 °C, 113.3 °F in Midale, Saskatchewan
Lowest Temperature in Canada: -63.0 °C, -81.0 °F in Snag, Yukon; this compares with -64.4°C, -83.9°F in Yakutsk, a city in Siberia with a similar latitude
The weather Canadians normally enjoy, falls between near the middle of these extremes, though most of us prefer one season over the others. And it ain't necessarily summer, as you might think.
We have a lot of skiers and hockey fans here. Plus a few snowbirds who like to spend their winters in Florida or Vegas or some warm place like that.  You could even vacation on the islands of Canada.  Apparently, they're great places.
Experienced the cold?
Everybody knows Canada is cold. Always. What do you think?

This country never has summer. Or does it?

Ever been to Canada? Or some other northern place? Russia? Sweden? Alaska?

Antarctica??

Was it a shock?
Other cold weather examples
Look here to see contributions from other visitors to this page...

Use this link to see some other interesting weather Canada facts.
ADD TO OTHER SOCIAL BOOKMARKS:

Del.icio.us

Digg

Spurl