Weather Man (About-us page
Quick search engines for weather
Are there such things as search engines for weather and meteorology?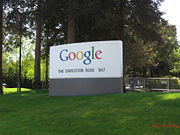 Click the GooglePlex above to see all the StuffintheAir pages.
There may be a few here-and-there on the internet, and here's a handy one right at your fingertips. What do you need? A bit about hurricanes? Chinooks? Air Pollution? The stratosphere? Hunt it down…either on this website or anywhere else on the web. Anytime you're in your search engine just type site:stuffintheair.com and then a word or two to get just the right list of pages for your needs. This trick works for finding specific results on any web site. 

Different search engines for weather: Do you need a quick weather forecast for somewhere? Just go to your Google (or Yahoo! or Bing or Ask, etc.) and type Weather Detroit or whichever city you choose. The first thing that comes up should give you what you're looking for.
Gaming the search engines for weather information

Here are some other quick and simple tips to help you with your searches.  Put an exact phrase in "quotation marks" to ensure that string (or single word if you prefer) is in the resulting page.  Place a minus sign ( - ) in front of a word to get pages that do NOT have it included.  
Here's an example you might encounter when using the search engines to find weather web pages.  Did you once read an article about weather, such as weather radar or something similar? If you needed a more detailed radar explanation, but with not the Doppler kind you could search with "weather radar" -doppler to get precisely what you need. Note that capitals and complete sentences are not required.  Nouns and noun phrases usually work best.
Google takes pride in their natural language processing capability. This means you can speak or type in a normal, conversational manner and be understood by the search engine.  One other thing I like to use on Google is their Image Search feature.  Type "google images" and follow the first result.  There, you can upload a photo or its address (URL) to see where it exists online.  
Don't know how to spell something.  Take a stab at it on the search engine and it will give you suggestions.  Type "search tricks" to find out what else it can do.  Or you can just use search engines for weather.
Stuff in the Air Ideas:
Sometimes it's hard to find just the right idea for a science fair project. Other times you might be just looking for something amusing, such as a game to play or an easy way to design your own word search puzzle, and you need something a little creative.
Or maybe as a teacher, you need help preparing lesson plans for next week. This is a great way to help you expand on your ideas.

Maybe there is a page about cold weather search and rescue or water pollution and aquatic fauna. Maybe you will have to search Wikipedia for the background you seek. In any case, find the information you need on the internet.

Try searching for my recent music projects.  See one example right here.
This little weather search box should help you out. It's gotta be good. It's Google. Try one, two or even three words in your weather searches to find it. By the way, see a bit about the word inspire and other inspiring words, and maybe it will provide you with some inspiration.
If you're interested in Canadian geography, you can also use this box to search the entire web or pages on my other site.

Sometimes, it seems, have to do it twice to search stuffintheair, but that should be okay. 

Here's that search box again.
You might see special results at the top of the page, above the word WEB. They're ads, but they might also be important to you. Happy searching!
ADD TO OTHER SOCIAL BOOKMARKS:

Del.icio.us

Digg

Spurl