Is radar real time weather forecasting?
Well, yes and no. With the use of a good radar real time weather information shows up on the screen, such as a US National Oceanic and Atmospheric Administration - NOAA weather radar display or this Canadian example.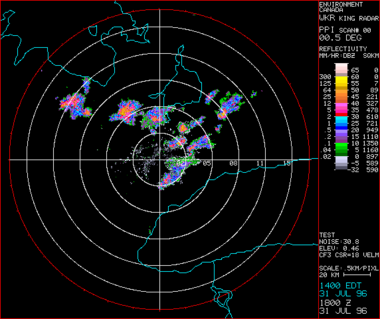 But it is not forecast information that you see. It is a way of taking a series of recent weather observations…very recent weather, and then using the imagery that results to produce very short-term forecasts and emergency broadcasts.
The data goes from the radar site equipment to Computer weather stations. With the correct analog to digital conversion software, specially-coded algorithms and sequencing software, we can get an animated radar display that weather forecasters, broadcasters and technicians use to provide the live weather radar component of a TV weather report, for instance.

Here, we examine some of the science and technology behind the radar US weather professionals and Canadian meteorologists use to work with. Since radar is an evolving technology, relevant information can become obsolete from time to time.
More about it below...What are YOUR thoughts on this?

Greatest Weather Forecasts
Know a better place for forecasts? Really cool graphics or outstanding weather information?

All weather people like to find new places for unusual data, and here's your chance to help. Feel free to comment; that would be much appreciated. Thank you.

P.S. This is NOT the Weather Network.


What have the other people said about weather?
Scan here to see contributions from previous visitors to this page...

Stay up to date.  To keep the information about radar real time weather publishers update their knowledge on a periodic basis.  They subscribe to journals and periodicals to keep up to date.  YOU can get a hold of my articles about general weather topics here.
Clever Acronyms
Instead of saying RAdio Detection And Ranging every time, we shorten it to RADAR. It has become a powerful forecast tool for meteorologists working with mesoscale and severe weather.

Looking to keep good business opportunities on YOUR radar? Do you know about this stuff, or some other field of knowledge and would you like to earn money on the internet with that knowledge? Like I have been doing.
If so, and you want to be found on the public's radar, so to speak, try creating your own business. See how I made this web site with my specialized knowledge.

The Radar is our weather eyes. We know we see most objects by observing the light they reflect. A radar receiver observes objects in the same way.

For instance, air traffic equipment: this type of radar sees aircraft.  Instead, weather radar views storms in the same kind of reflected microwave pulses as deployed by other radars.  This is the long wavelength light energy radar sends.

In this manner, direction finding became the first principle of radar real time weather. As a bonus that was added to later radar equipment, it became possible to detect the amount of time for the echo to return and use the radar range equation to calculate the distance to the target.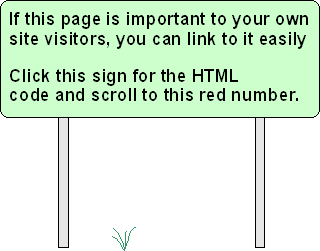 As another bonus, some types of even more modern radar have been designed to detect whether the object moving towards or away from the radar, and how fast. They call these Doppler Radar.
#6
What does radar real time weather look like?
Targets may include fixed objects, moving vehicles, storms and sharp changes in meteorological conditions resulting in unexpected reflections known as anomalous propagation, like that described on this US National Radar Weather page, and other features that are normally considered errors.
These weather radar real time images that result from all this technology provide information often not obtained any other way.  For one thing, they show how fast precipitation is falling and where.

To derive precipitation rates from the strength of the radar power reflected, the people and forecasters use the principles explained on this page.  For further reading, go visit this one to read how Doppler radar equipment works.

Finally, see a sample Canadian radar display from Calgary, Alberta.

ADD TO OTHER SOCIAL BOOKMARKS:

Del.icio.us

Digg

Spurl