About pictures of meteorology
Search for more photos.


Pictures of meteorology
can be spectacular to look at! Clouds come in all shapes and sizes, of course, and are particularly beautiful when the sun is rising or setting.
We can use meteorology pictures to decorate our homes, teach our children or change our moods. To get pictures of meteorology, you can either scout around online or learn to take or draw the pictures yourself.
Some of the most stunning pictures of weather come in the form of lightning photographs. Professional photographers often take photos of thrilling lightning displays, tornadoes, threatening clouds, sun rays splitting the darkness of a cloudy day, and raindrops.
Even pollution. Or global warming.

A composer is only limited by his
Show us your stuff.
Got a great photo? Or a drawing? Undeniable evidence of global warming to make your point? Here's a chance to post it and let others see.

You can rant below instead. Is Global Warming dead? Worse?
Enjoy the hobby of storm chasing? Some brave individuals load up their camera and/or video camera and head to where the action is.

The photos taken by storm chasers are among the most informative and interesting weather pictures. They are not afraid to get near where a tornado is about to touch down and get a photograph or video of this event. Take a look at this one:


It is a dangerous hobby, though, since you can never tell exactly what direction the storm is going to turn.
Satellite photos are essential and can be viewed from all around the world. In fact, NASA maintains the Global Hydrology and Climate Center, which provides satellite images on a continuous basis. Their website at wwwghcc.msfc.nasa.gov gives you interactive maps from around the world.
The coloured satellite photos you see on the TV news are usually infrared images, but they may show other types of multi-spectral images and other hybrids. On the GHCC website, you can see current colour maps for any part of the world. Have fun with it.
Radar presents an entirely different picture (see Radar Real Time Weather for an example), of the weather situation as well.
More Pictures of Meteorology
Here are some more photos on this website:
Severe Weather

Stuff in the Air Homepage
Want more? Type stuffintheair into your Google browser window and then hit "images" to see an extended list of samples.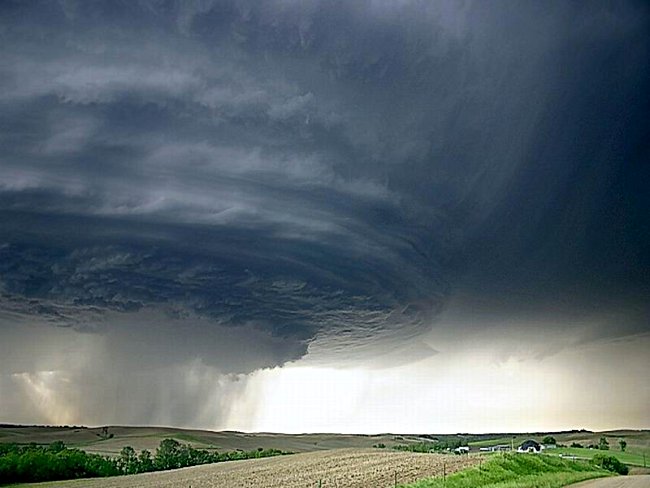 A great activity for children learning about meteorology is to make cloud drawings. Making a visual representation is a valuable way for kids to learn the names of the different cloud formations.
If you have pictures to show the world. Design your own website and post them for all to see. See these basics of website design.


Go back from Pictures of Meteorology to the Radar Real Time Weather web page, or search this site for more information now.