Ever heard of Jackie Meretsky?
Search for more.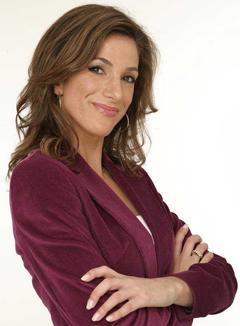 This is Jackie Meretsky. Ever seen her on NBC Weather Plus or any other network? This young lady was born in Toronto, Canada. As a child, she wanted to be a jazz dancer, but she graduated from McGill University, Montreal, with a degree in Communications and Political Science.
She started her journalism career as a writer with City TV in Toronto. She then moved into television marketing and sales before deciding that she would rather present in front of the camera. Her passion for storms and other weather phenomena led her into becoming a meteorologist, an on-air weather broadcaster, in 2002.
The first of her broadcast meteorology jobs? Jackie Meretsky joined up with The Weather Network (TWN), a specialized Canadian cable television channel that provides 24-hour weather information. It is the Canadian equivalent of the US-based The Weather Channel.
She began as an on-call and weekend evening's weather broadcaster for the Mississauga, Ontario area. Her final broadcast for The Weather Network took place on 18th September, 2005.
Jackie then moved to New York in October. She started with NBC Weather Plus, The Weather Channel's main rival for 24 hour weather reports in the US.
Interestingly, Jackie reunited with an old colleague from The Weather Network, Gary Archibald, who had moved to NBC Weather Plus just a year earlier. On one of her first assignments, she travelled to Naples, Florida, to cover the record-breaking hurricane, Hurricane Wilma.
Is broadcast reporting becoming too sensational these days?
Her favorite weather phenomenon, reportedly, is "Electrical storms (unless I am flying through one)." This last comment relates to a harrowing experience she had on a routine flight from Toronto to San Francisco, when the jumbo jet Jackie was flying in suddenly dropped 1,000 feet over the Colorado Rockies.
Yeah. A thunderstorm was to blame.




Jackie Meretsky has managed to build up quite a following, especially among the male population, and there exists a large number of websites with discussion boards and photographs dedicated to the bubbly brunette meteorologist.
However, she enjoys her privacy very much, and little is known of her life away from the camera. She has shared a few personal pieces of information in her Weather Plus biography. An amusing entry includes the fact that she doesn't share her name with a hurricane, but feels that it is about time.
Jackie also displays her previous experience as a writer by composing articles for the Weather Plus website. The majority of these relate to weather phenomenon, understandably. But she also adds her own unique personal insight and sense of environmental humor.
Articles that she has written include how different types of weather affect hairstyles, how diamonds are the one form of ice that girls want, and how Americans blame Canada for the severe cold weather systems.
While these articles have a lighter side to them, they also offer pieces of meteorological information in an interesting manner. At the end of the day, her writing and marketing skills combine and Jackie Meretsky is almost able to promote good feelings about the weather, no matter how bad it may be!
Finished with Jackie Meretsky?
Go back from to the Image Satellite Weather page. Or visit the Stuff in the Air homepage.


Search this site for more information now.