*** 20th Anniversary: 2003 to 2023 ***
Get the Most from Weather Network Canada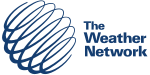 Canucks' weather network
How does the Weather Network Canada work?  It's always been one of this country's favorite cable TV stations.  Our weather channel is the only full-time English channel in Canada.
Throughout the year, Canadians experience a variety of weather and climate conditions, from extreme cold in the winter to hot and humid in the summer.  Canadians need to be prepared for all kinds of weather, and the Weather Network helps them do that.
All of Canada gets up-to-date, accurate, and reliable forecasts from The Weather Network.  Also, they provide weather warnings, air quality, and hourly and long-term forecasts.
The owner, Pelmorex Inc. also maintains a very good website.  Click on this logo on the upper-right to see it.  Overall, it's similar to other weather sites.  
They have a national map on the homepage, with quick links to provinces and major cities.  Here are TWN's own forecasts for the major cities in Canada.  On the right side of the map, you'll find the latest weather news, photos and schedules for the TV station, as well as info on their forecasters.
You can get weather for your mobile device and RSS feeds at the bottom of the home page.  RSS is geek-speak for data distribution.  It's all good stuff for your weather junkie.
A look at Weather Network Canada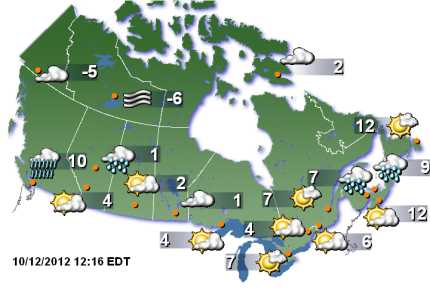 National Canadian Weather Network
Here's how to use some of the website's key features:  This image above is a classic screenshot of the national map on the TWN homepage (circa 2012).  Above this map, you can find Environment Canada weather warnings and watches, if any are in effect, with the location.  Further up the page, you'll find links to travel maps, severe weather, and more.  Users can get accurate and up-to-date weather information on the Weather Network Canada website.
How's it going in your city?  You'll see the current weather conditions for your location at the top of the page when you first visit the website.  Choose either: Your nearest big city immediately to the right of the map or your province's two-letter code below.  You'll get a list of dozens of places in your province.
When you've picked a community, wait for the page and all its details and advertising to download and display.   You'll see the most recent weather conditions first.  We're talking about temperature, wind speed and direction, humidity, and more.  There's also a radar image and a forecast for the day.  
After that, a short term Weather Network Canadian forecast for the next two days appears, followed by a long term weather forecast, which lasts six days.  You can usually view pictures from city cameras and upload your own if you want.
There's a prediction of how much rain will fall over the next 24 hours in the short term forecast.  There are special buttons under each short term weather forecast:  Hourly, 14 Day Trend, Weather Maps, Local Traffic Cameras and Highway Forecast.  Each hourly forecast shows the weather conditions for each hour of the day, including temperature, wind, and precipitation.   You can get a 14-day forecast with details on expected temperature ranges, precipitation, and other key weather variables in your area.
You get a graph comparing each day's predicted maximum temperature to a horizontal line plotting normal temperatures this time of year based on the 14-day trend, for instance.  I found it to be very useful. 

Here's where you can find road-conditions info for Canadians.  Below the 24-hour precipitation forecast, click Highway Forecast.  On this highway forecast page, You can track weather patterns and conditions across the country with the interactive maps on the Weather Network Canada website.  The maps include radar, satellite, and temperature maps, as well as severe weather warnings and watches.  You can customize the maps to show specific data, like temperature or precipitation.
If you are really concerned, sign up for weather alerts: The Weather Network Canada website lets you sign up for weather alerts by email, text message, or push notification.  
Weather Network Canada also offers advanced features, like pollen and air quality reports, UV forecasts, and weather news and analysis.  Click on the "More" tab at the top of the page and pick the feature you want.

On the city forecast page, there's a section called Next up on TV.  The Weather Network Canada is a TV station, the weather channel in Canada, so you can get the upcoming program info there too.
Greatest Weather Forecasts
Know a better place for forecasts? Really cool graphics or outstanding weather information?

All weather people like to find new places for unusual data, and here's your chance to help. Feel free to comment; that would be much appreciated. Thank you.

P.S. This is NOT the Weather Network.


What have the other people said about weather?
Scan here to see contributions from previous visitors to this page...

Where the Weather Network Canada channel came from...
Weather Network is a Canadian specialty television network and online weather service that gives local and national weather forecasts, weather reports, and weather-related news.  Weather Network was founded in 1988 by a group of meteorologists, including Pierre Morrissette, now CEO of Pelmorex Corp., The Weather Network's parent company.  The founders saw an opportunity to fill a market gap in providing reliable weather information to Canadians, especially in rural areas.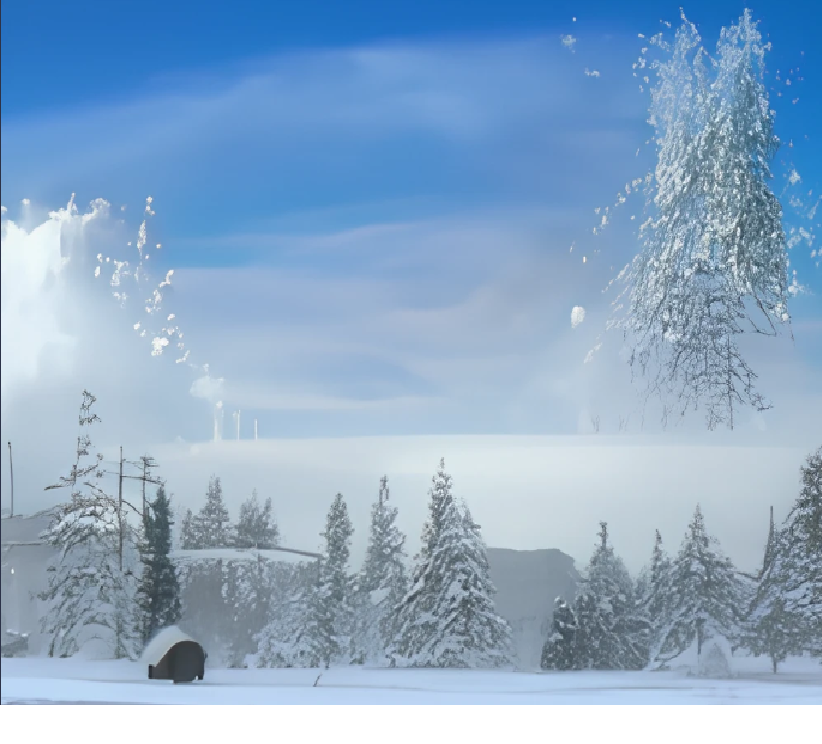 Snowy Canadian scene
As a 24-hour cable TV network, The Weather Network broadcasts weather forecasts and information to Canadians.  Since its launch, it's expanded to include mobile apps, websites, and social media channels.  Canadians rely on the Weather Network for weather information and alerts to stay safe and prepared during extreme weather events.  Meteorologists and weather experts work around the clock to provide accurate and up-to-date forecasts, which have become an essential tool for Canadians.
Weather Network Canada gets its forecasts from government weather agencies, private weather companies, and its own meteorologists.
Environment and Climate Change Canada (ECCC) is one of the primary sources of weather data for The Weather Network.  Data on temperature, precipitation, wind, and other weather variables are collected by ECCC's network of weather monitoring stations.  It also works with other government agencies, like the National Oceanic and Atmospheric Administration (NOAA) in the US, to access weather data.
The Weather Network also partners with private weather companies for data and forecasts. The companies collect and analyze weather data using satellites, radar, and computer models.
Last but not least, The Weather Network has its own team of meteorologists who analyze weather data and make forecasts based on their expertise and knowledge of Canadian weather patterns. Using computer models, satellite data, and historical weather data, these professionals create forecasts for the public.
The Weather Network Canada has a lot of weather information and tools to help you stay informed both on TV and on the internet.  With these features, you can plan your activities and stay safe.