Reporter #2 continues this global warming argument:
Search for more global warming ideas...


(Start reading this
global warming argument
from the beginning.)
I also don't believe that going after emissions is the best answer to global warming but I do believe in living in a cleaner world.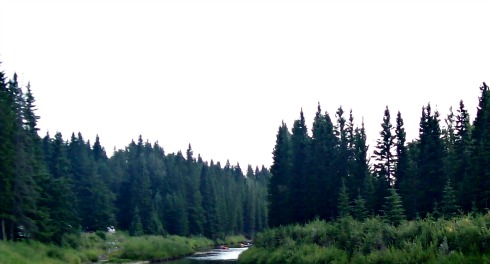 To go further:
The oil sands CO₂ emissions is a tiny fraction of emissions from US coal and US coal is a tiny fraction of what china's spits out.
But Oil sands is an easy target and a lovely way to distract everyone from the fact that nothing significant is happening elsewhere.
The US is not going to spend a dime to clean up those coal plants or replace them with natural gas either.
China is certainly not going to retrofit their factories with the latest in emission reduction technologies.
And of course this part of the global warming argument keeps everyone from looking too closely at the other pollutants we get to live in.
Domestic global warming argument
If governments were serious about CO₂ emissions then they would tackle the biggest single producer of CO₂, the furnace in your and my house. Research a cleaner home furnace and then give a whopping tax break so that we all "voluntarily" implement the new technology.
Impossible you say? I agree.
We know plants eat CO₂ and produce O₂. How about we look at the reduction of the largest forests in the world and see how that correlates to the rise in co2 and global warming levels. The global warming argument continues with us producing more CO₂ while at the same time removing the single best way of cleaning up that CO₂. Want to bet there is a correlation? Maintaining world forests and sustainable lumber and agriculture industries is the best way to manage CO₂ levels. Now that is damned inconvenient.
Inconvenient is boring so lets move our on to the really impossible.
Where does global warming occur?
We also know that jungles create their own sustaining weather. The Amazon without the Amazon jungle would be the Amazon desert with the weather patterns to match. Dig under a tree in the middle of the Amazon forest and there is clean white sand just a couple of feet under the composting leaf litter and the sand goes for miles and miles.
We already know that historically the Sahara desert used to be the Sahara jungle with the weather patterns to match. Global warming impact of the past? Some of us also have a sneaking suspicion that man was partially responsible for the Sahara transformation since we can see the methods used in action today with firewood gathering in Africa increasing desertification and slash and burn farming in the Amazon creating dirty great patches of sand.
Now what would a reversal of the Amazon and Sahara transformations do for the CO₂ rise? The Sahara jungle project would be the largest mega-project is history costing mega-trillions and employing billions over most of a century, advancing science and eco-understanding in gigantic strides with every economy in the world running flat out in support of it. Unfortunately it has a huge and impossible to overcome down-side.
It would not kill anyone, benefits would be too hard to price, it does not create an arms race, no single government "wins" more than any other so no political capital and it would require governments to work together for extended periods. Really quite impossible as you can see.
Instead of science we get a weak global warming argument with inconvenient, myopic half-truths. Instead of vision we get Kyoto. Instead of action we get Copenhagen.
Instead of solutions we get carbon trading. In short not much of anything.
And if the Amazon transformation ever tips over into the amazon desert that will be an unfortunate consequence of global warming and nothing more. Nothing more than a moot global warming argument.
=====
Reporter #1: Your global warming argument about deforestation is a powerful one - one which I use in discussions with Al Gore's sheep. I fully supported Harper's gov't a year ago when they wanted to play wait and see about our economy and were hijacked by the 3 stooges, and I hope they have the strength to play wait and see with this issue in the face of hysterical public sentiment. Kind of reminds me of the kid joke about the teacher reading about Chicken Little yelling "the sky is falling" and the "holy shit! A talking chicken" response.
Here is Reporter #1's global warming evidence. =====
Reporter #2: Jump on in folks. There's room in this global warming argument for more.
I'm sure there are a few of Al Gore's sheep among you that would appreciate the opportunity to
What's the latest in Global Warming?
Not everything is covered on this website. It can't be. If you know something you're itching to tell the world, here's your chance. I'm all ears.

Go ahead.
A few previous facts...
Click below to see information from other visitors to this page...

Alarming issue Not rated yet
Global warming is an alarming issue no doubt. When we exploit the environment, environment also plays with us. When the temperature rises above the normal …
Alternative explanation for Global Warming Not rated yet
There is a alternative theory out there that seeks to explain the global rise in temperature as observed in the past years. Theorists have reason to believe …
Search this site for more information now.