I believe you would call it the Moon at Perigee
by Jeff, Kayla,and JJ
(Moncton, N.B., Canada)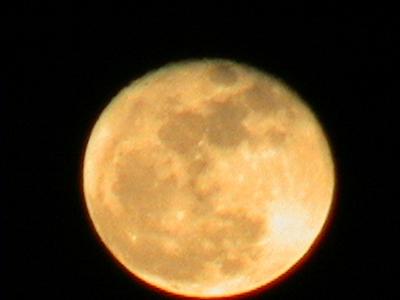 You've been mooned!
My wife, my son, and I were driving my parents house. As the night got closer, as did our Moon. We noticed the Moon rise up as usual, but, around 9:45 we saw that our Moon was just a little bit larger, or closer. So we took a drive up to the mountain to get a better picture...

March 20th, 2011, 10:00

Barry's Response - Here's a word for you: Syzygy

That's what happens when three objects in the sky line up. It happens every time there is an eclipse (which happens when there is either a full moon or no moon).

When one of these occurs at lunar perigee, we call that a supermoon (and not when Clark Kent loses his underwear), which is what you witnessed. When it is low in the sky on a clear night you have one that looks like a harvest moon, and generally it can appear noticeably larger (closer) and pull tides noticeably stronger as well.

search this site for more information now.
When does the full moon rise on March19 2011
by LORNE MOORHEAD
(Flin Flon MB)
I would like to know when the full moon rises on March 19/101 over MB?

Barry's Response - I use www.timeanddate.com for this one. This page https://www.timeanddate.com/worldclock/astronomy.html?n=265&month=3&year=2011&obj=moon&afl=-11&day=1

...gives moonrise and set times for every day in Winnipeg. From it I read that it rises at 8:13 pm on that date and would have become full (99.4% full) a few hours earlier at 1:10 pm. You can use this page to find sunrise/set times for anytime and (major) place as well.

Use https://www.timeanddate.com for making this type of calculation for the sun and moon.
ADD TO OTHER SOCIAL BOOKMARKS:

Del.icio.us

Digg

Spurl