affect of smoking
by lynn m
(cleveland, united states)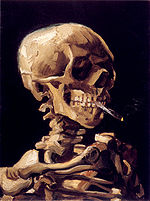 Van Cough painting
We need to find the affect of smoking. Is there something that is available to test the quality of air in an office? Smoking is permitted in a designated room, I would like to find out if this affects other rooms.


Thanks
Barry's Response
- Lynn:
I did a little searching on the web. It seems nothing specific to measuring the smoke concentration exists, as far as I can tell.
One of the most reliable ways to detect this is your own sense of smell, and that of other people. Keep an ear open for complaints. It's not quantitative data but it is what really matters.
Cigarette smoke is a rich blend (soup?) of substances, some toxic, others carcinogenic, and, together they give a fume with an enormous depth and considerable appeal. That is part of what makes cigarettes psychologically addictive.
What's in a good smoke?
Nicotine, tar (particulates and polycyclic aromatic hydrocarbons in a thick residue), carbon monoxide and ammonia. Add to that this list of carcinogens: butadiene, acetaldehyde, acrolein, acrylonitrile, arsenic, benzene, Dioxins and Furans, cresol, formaldehyde, and cyanide for starters. Other chemicals can include various aldehydes, keytones, toluene, selenium and a few metals such as nickel, chromium, cadmium and lead.
Very complicated. Quite dangerous. By the way...if you smoke marijuana, you expose yourself to many of the same contaminants.
Search
this site for more information now.
ADD TO OTHER SOCIAL BOOKMARKS:

Del.icio.us

Digg

Spurl