*** 20th Anniversary: 2003 to 2023 ***
What Causes Air Pollution
What causes air pollution to get worse?
To understand and answer the question, what causes air pollution and get a glimpse of when air pollution first started, we have to go back to the days of the cave man when he built a fire in a poorly ventilated cave
Combustion
More and more of the earth's surface is polluted since then.
Earth one (our primitive planet) was able to absorb and purify minor pollutants.  As the human population grew and society became more industrialized, cars burst onto the scene.  What causes air pollution, we found out the hard way.
It's time we learn how to care for our air and clean it up.  Start by identifying the problem.  In most urban areas, what are the primary air pollutants found in urban areas?

If you examine a variety of reports and air quality regulations, you will find that:
nitrogen oxides (especially nitrogen dioxide),
hydrocarbons,
carbon monoxide,
sulfur compounds including sulphur dioxide, hydrogen sulfide and mercaptans (thiols) and
liquid as well as solid particulate matter such as dust
...form the majority of airborne pollution. They affect the region immediately surrounding the industries in question.
Despite contributing to the greenhouse effect, carbon dioxide (CO2) and water vapor aren't pollution.  Here's more about CO2.
In the world's atmosphere, these and other substances can reach concentrations high enough to warrant our attention.  When pollutants are highly concentrated in our air, health problems and environmental problems follow.  This can eventually damage the water supply, flora, and fauna.  The air we breathe, inside and out, is even more important.
Here's an example of air pollution:  watch this black smoke and imagine what it contains.  It's a great example of what causes air pollution.

What Causes Air Pollution in the House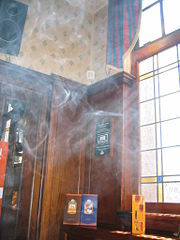 It's smoky in here
Pollution happens everywhere - even at home and work.  In recent decades, engineers and builders have designed buildings to trap heat and conserve energy for heating and cooling.  While this is a good thing, it restricts the natural circulation of exterior air into the interior.
Consequently, poor ventilation traps air contaminants.  These problems can sometimes be alleviated by mechanical filters, but they're not very effective.  If the air is relatively clean, entrainment of outdoor air usually works best.
Here are some sources of indoor air pollution issues:
telephone and electrical cables,
air conditioning systems and ducts,
pets,
copying machines,
mold,
cleaning fluids,
carpet,
vinyl molding,
building materials,
cigarette smoke,
latex caulk and paint,
linoleum tile, and
furniture.
Do I need to add anything else?  There's another alarming pollutant in your house.  Radon-222 is a colorless, tasteless, odorless and naturally occurring radioactive gas that creeps into basements.  Cancer is caused by radioactivity.
Here are some sources of outdoor air pollution.  Transportation and fuel combustion are the main causes of pollution in urban areas.

Carbon monoxide, hydrocarbons, and nitrogen oxides are all produced by cars.  Also, stationary sources like heating, power generation, and some industries emit sulfur dioxide from fuel combustion.
Carbon dioxide still causes air pollution.  These days, carbon dioxide is the most talked about substance in the air.  The main issues here are deforestation, removing sequestration opportunities, and burning fossil fuels.  Plants naturally sequester CO2 out of the air through sequestration.  For their own growth, they need it.
Net emissions of carbon dioxide have been increasing at a rate of 4% per year due to human processes and natural changes.  There's 60 times more carbon dioxide in ocean water than in the atmosphere.  That's a lot.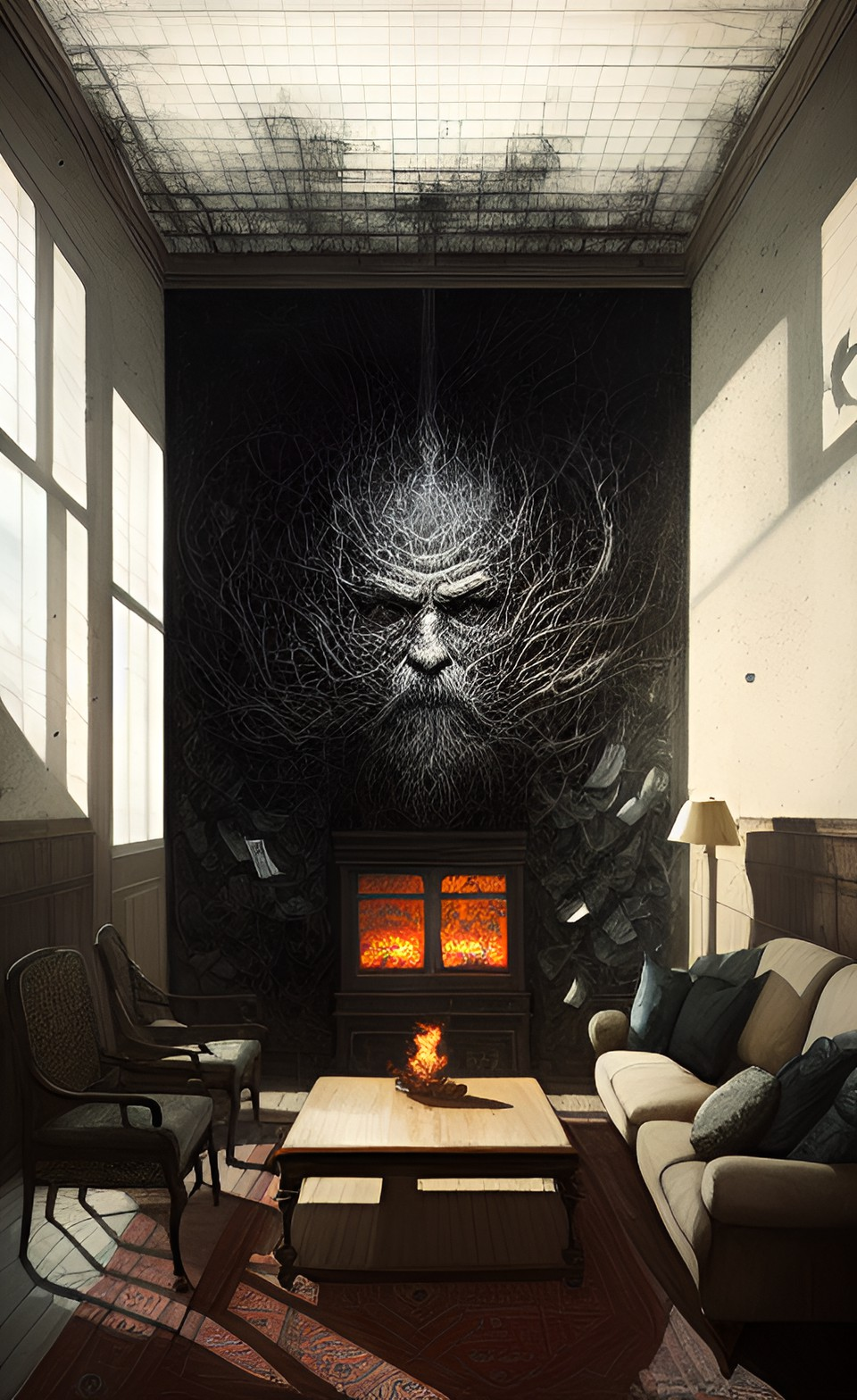 Home toxins and other scary stuff
Carbon dioxide will stay in the atmosphere once the oceans can't absorb it because of saturation.  As the temperature of the water rises, the ability of the water to absorb CO2 decreases.
Global warming and this gas go hand in hand.  Carbon dioxide is a good solar energy (but a poor infrared energy) transmitter.  It partially restricts radiation returning from earth to space.
We've all heard of the greenhouse effect, right?  This keeps the earth from getting too cold at night.  
A warming of the atmosphere near the earth's surface has been predicted as CO2 levels rise in the atmosphere.  Global warming may be caused by increased CO2 concentrations right now.
Is that right?  What do you think?
Have I got the Wrong Idea?
Maybe you know something I don't. Something the world needs to hear about. This short website cannot include everything and if it's important to you, it's important to me.

So what's really the story with global warming? I'd like to know. If you have a picture, I'll even include it here. Try me.
What have those who came before you said?
Check below to see contributions from other visitors to this page...

When smog occurs, what causes air pollution?
Tropical and subtropical regions where savanna grasses burn periodically are seeing smog.  Smog and air pollution are caused by what?  Engines and other combustion sources emit unburned gases that give it its unpleasant properties.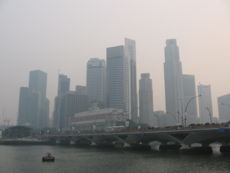 Smoggy coastal city
Photochemical reactions produce:
ketones,
organic acids,
organic particles,
aldehydes,
peroxyacetyl nitrate and
other oxidants.
You've heard of ozone, right?  When nitrogen dioxide gets exposed to sunlight, it makes this gas.  Gas can irritate eyes, damage trees and crops, and impair lung function.  There's also industrial smog.  Do I need to elaborate?  Take a look at our industrial facilities.
Do you have an industrial facility that needs a professional air dispersion modelling assessment?  Does the potential impact on your local community concerns?  If you've been doing some things on the production site that have done so, it might be a good idea to conduct an air quality assessment.
Your activities are essential to the production and provision of various goods and services.  It's also important to make sure these operations don't adversely affect air quality or public health.  Someone might suggest an air quality assessment for your facility.  Insights into emissions generated and their potential effects on local air quality could come from an evaluation like this.  You can show your commitment to the community by proactively addressing any concerns and taking appropriate measures.
You can get the necessary expertise and guidance by hiring an environmental consulting firm or air quality specialist.  They can assess your emissions, make sure you're compliant with regulations, and suggest mitigation measures.  
Air quality assessments take time and resources, but the benefits of a healthier, cleaner community far outweigh the costs.  You'll also improve your operation's reputation as environmentally friendly and show your commitment to sustainability.
I think I can help if you think it's good.  As a professional air quality consultant, I do these types of assessments all the time.  Barry Lough can be reached by email at:

Try my consulting firm, Calvin Consulting Group Ltd.  I'll help you out.

How can you reduce global air pollution?  You can start by driving a car that gets at least 35 mpg, biking, walking, and taking mass transit.  You can make your home more energy efficient too.  Start a recycling campaign.  Put a few trees in your yard.  You can also support cleaner air laws.
Want to know more about recycling?  Check out this website on recycling and Global Climate Change.

Discover what climate change is, what causes it, and how you can help reduce it by living green, recycling, and being energy efficient.  Earth is everyone's home, and no one likes to live in a dirty house.  Together, we can make the earth a healthier, cleaner, and more pleasant place to live.