Car Air Pollution and Global Warming
by Alex
(Bellingham, WA)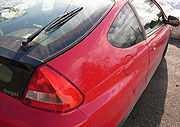 Insight Air
If car air pollution is what causes global warming, then how come there was no global warming in the 1960's when cars were polluting the air way worse than now? Car technology is way better than it was back then.


------------------------------ I've also heard that global warming isn't really happening. Yes, the average tempature of the earth has risen, but not by very much. I heard that in the last century, the average tempature of the earth has risen and fallen. Right now, the average tempature is about two degrees higher than it was 100 years ago. What do you say about that?
Barry's Response
- Alex: Good point. Here's a few supplemental thoughts on car air pollution and global warming.
1) Less pollution per car, but more cars, way more. Also, lots more driving per car.
2) Cars are a major but not the only source. We have way more industry and other types of pollution around the world than before. We also have natural sources, but one can probably assume that the magnitude of their contributions remains relatively fixed over a long time scale.
3) There was greenhouse effect all the time, but global cooling was the concern way back then. Obviously there are forces greater than pollution affecting climate.
Read this page for a little more insight into between naturally driven global warming and cooling cycles. https://www.stuffintheair.com/Blowin_in_the_Wind-milankovitch-cycles-climate.html
Search
this site for more information now.
ADD TO OTHER SOCIAL BOOKMARKS:

Del.icio.us

Digg

Spurl