Chinook winds in Summer
by Kathie
(Canada)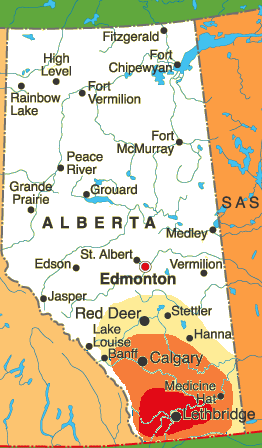 Chinook Country
Can you have chinook winds in summer? My son in grade 4 had a test and his definition of a chinook was "A wind that blows that makes the weather warm"


He got it wrong because he didn't add "in winter".
Just curious, I think they only happen in the winter, please confirm and thanks.
Barry's Response
- Kathie:
Hi. I am in Calgary, Chinook capital of the continent. So should I know all about these things? Well... not all, but here is my take on your question.
I would not use your son's answer to define a chinook, even with "in winter". It does, however describe it pretty well.
The main idea behind the chinook is that the wind coming down our side of the mountains is warmer than it was when it went up the other side in Vancouver or wherever.
How? The process of going up over the mountains causes the moisture to fall out of the clouds as rain or snow. That's why BC gets so much.
The heat that was in that moisture, and there is a lot of heat, is left behind to come down our side.
Does this happen in the summer? Sure. And it's warm then too. But one thing you've probably noticed if you've experienced chinooks is that it's usually cloudy. So in the summer you're trading a warm sunny day for a warm cloudy and windy one. And probably don't even notice that it's a chinook.
Furthermore, the strong wind in a chinook is one of its assets in winter. The winter chinook wind scours out the heavy cold arctic
air
that may have been sitting over the land previously, like a thick layer of dust. It takes a lot of wind to do that. So, when you have chinook winds in summer, it's just an annoying wind.
Hope this explains it without being too um... "long-winded."
Search
this site for more information now.
ADD TO OTHER SOCIAL BOOKMARKS:

Del.icio.us

Digg

Spurl