Helping People find current science articles.
Search for more.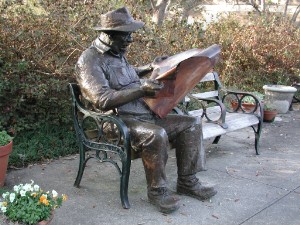 Check out some current science articles for something new. If you want to know about a bit about our environment (who doesn't?) this might be just for you. Interested in meteorology or environmental atmospheric science?
As you know, the weather and its interactions with the environment is a serious issue. With the right articles, you can see how these affect you and your world.
Articles on the weather and environmental issues provide food for thought for your own papers and essays as well. How important is the right article at the right time? These pieces give you the information you need, are often to the point and can provide the most recent information available.
We'll also hit a few classic concepts for the newcomers.
Current science articles...
for interactive meteorology. What's this? For example, one of the global warming essays in this list could address "How does the weather and environment work together, why should we worry about one affecting the other?" Simply put, the apparent decline of the environment may have an impact on the weather. And unusual weather can alter the environment.
As the weather changes and becomes less predictable, as if it ever were, people think it shows signs of a decline in the environment. Many current science articles do in fact discuss these issues.
Other essays deal with mankind's influence. Obviously, pollutants taint the environment every day.
Smog, greenhouse gases and forest depletion cause global changes that affect the weather. They could even change the seasons as we know them.
Examples of the changing weather can be seen from one end of the Earth to the other. Here's one. You may see Alaska having milder winters and disappearing Arctic Ice even though it has been there for thousands of years.
The news may then take you to slightly warmer climates, where the winter season has become shorter and less snowfall gets recorded annually. Where the winter cleansing of incoming parasites and foreign diseases gradually loses its effectiveness.
The next current science articles might show that the weather and environment play hand-in-hand when you think about how we are destroying one and the other is getting increasingly worse. Yes, they can be pessimistic at times, but they're trying to make a point.
Other writers give us some hope, however. Each day environmental scientists discover ways to improve the environment, for instance.
We now turn away from high-powered cars that pollute the earth in favour of more efficient vehicles, some running on something other than fossil fuels. The authors add that hopefully we soon won't have to dig and destroy to get from one place to another.
Other well documented areas where we improve is deciding what we throw away and what we keep, recycling has helped us to continue the style of life we enjoy. With drinks on the go, for instance, we choose more often not to simply throw their empty containers away but to return them for reuse instead.
Now you can find more innovative ideas than these in the right publication. Even plans to improve our earth. By checking out these science articles you open a new door to saving something we love. Our home, the earth, its environment and the weather.
Here's a chance to get current science articles in the future...
Get "Blowin' in the Wind"
Think you would like to receive a monthly article from this website at no charge? Go ahead and fill in the form below. A new article comes out at the beginning of each month.




Just what the doctor ordered.
Go back from Current Science Articles to the Article Meteorology webpage.


Search this site for more information now.