Global Warming Carbon Dioxide
Global warming carbon dioxide and their interactions
Search for more about the atmosphere.


Global warming carbon dioxide
can cause us many concerns. This has been a hot issue, so to speak.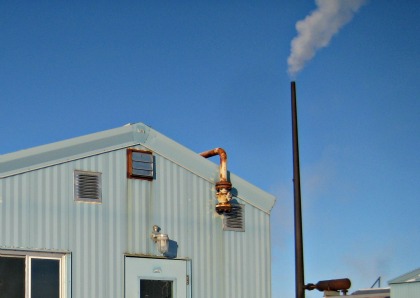 It starts with the well-established theory that the earth is gently kept warm by the mix of gases in the atmosphere. They not only hold sensible heat, that which you feel, but retard the penetration of long-wave radition from the earth out into space.
The global warming carbon dioxide scare exists because carbon dioxide has been identified as one of these so-called greenhouse gasses. That's where the atmosphere keeps heat near us in a fashion similar to the glass covering in a green house, while allowing sunlight to enter.
The climate change effects of carbon dioxide are real. We also have some control over it, therefore it has become an important commercial, political and, as Al Gore says, a moral controversy.
How does it work? CO2 has been shown to block a few certain wavelengths of the earth's outgoing radiation trying to escape from our environment. The higher the CO2 concentrations in the atmosphere, the more effective this covering should become.
This has the potential to cause the earth to become a little warmer in order to naturally emit infra red radiation at a slightly lower wavelength instead. This new radiation will get through the global warming carbon dioxide blanket.
The result of all this has been attempts to convince the people who are in charge of global warming carbon dioxide emissions to find ways to reduce the carbon dioxide levels in their activities.
Why? To slow global warming down. Many of the world's largest economic interests depend on processes that release CO2. Such as those found in the oil industry. So it has been a tough and contentious sell.
This Global warming carbon dioxide video elaborates a bit further
Go rent An Inconvenient Truth.
Friends of Science
Some opposition has come from within the scientific community. Other scientists have pointed out a few things which complicate matters a bit.
One is that CO2 is not the most important greenhouse gas anyway. First place goes to water vapour. It is far more abundant and effective at enhancing the greenhouse effect.
The second thing they put forth is that the carbon dioxide gas produced by mankind pales by comparison to the amount of CO2 emissions that take place in nature. Through things such as volcanoes, decomposition and such.
Natural carbon sequesteration (removal) outweighs man-made emissions, even. It might be a good idea to check FriendsofScience.org for a few more ideas.
Here's what else they say.
Changes in global warming carbon dioxide levels do not occur before those of global temperatures. When graphed, carbon dioxide concentrations follow temperatures by hundreds of years.
The oceans act as a reservoir for CO2. They're huge and they hold carbondioxide better when the water temperature is lower. This could be why global warming happens first before the CO2 levels rise.
One person pointed out, "abiding by the Kyoto protocol would result in almost no lowering of temperatures, according to its own backers" - hmmm… The protocol is designed to reduce carbon dioxide release and slow down global warming. Hadley Center researchers have estimated it could save us from about 0.06°C of temperature change.
Carbon dioxide is essential to life.
Changes in climate may be traced to greenhouse effect, partially, and other influences cannot be ignored. Changes in the earth's orbit and sunspot activity make significant contributions to global warming.
There are more gases contributing to the green house effect than just CO2 and water vapour.
One important thing to keep in mind. We may possibly see changes in global carbon dioxide concentrations lead to a temperature increase. CO2 has never increased independently of temperature like this before and the results could very well be different from what anyone expects.
Have I got the Wrong Idea?
Maybe you know something I don't. Something the world needs to hear about. This short website cannot include everything and if it's important to you, it's important to me.

So what's really the story with global warming? I'd like to know. If you have a picture, I'll even include it here. Try me.
What have those who came before you said?
Check below to see contributions from other visitors to this page...

Global Warming Solutions
The things Al Gore suggests in An Inconvenient Truth are good things to put into action. Things such as:
using more efficient appliances and light bulbs.
Raising fuel mileage and emissions standards for vehicles.
Using renewable energy and technologies.
Finding ways to increase carbon sequestering
...to list a few.
Why are they good?
Less energy wasted is less money wasted.
The environment benefits in more ways than one in most cases. For example sources of carbon emissions release other chemicals as well.
Nobody knows for sure. It could have the intended impact on global warming.
Just don't count on it.
Conserving can't hurt at the very least. Go back from Global Warming Carbon Dioxide to the Air Quality Testers page.


Search this site for more information now.