Get an article Meteorology students would enjoy
Want to see an article meteorology interns would appreciate?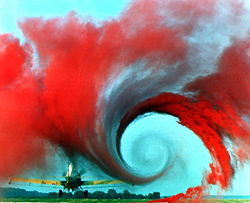 The newsletter mentioned on the page is not currently being produced.  See archive issues using the link on the right.  Now you can get interesting articles on air quality, which might help you with your research project.  If you would rather, you can skim through them just for interest sake.
Here is a chance for you to get a monthly newsletter about a variety of environmental and weather topics, and this will enable you to build your know-how more quickly than you would otherwise.  I would like to help you understand these concepts so you have a better hunch about the kind of surprises mother nature and the atmosphere may deliver..

How? Sign up below to discover intriguing new principles to boost your smarts.  That way you can better diagnose and even make predictions of your own.

Enhance your preparedness and readiness for emergencies as well.  When you acquire helpful knowledge and good judgment that will empower you to interpret, explain and respect the intricacies of our environment, you appreciate the world even better than before.  And you are less likely to become anxious about environmental issues when they appear in mainstream news items.  At the same time you will recognize when news items really are important and deserve greater attention.
You might get info about
upcoming meteorology jobs,
weather satellites and radar,
Global Warming essays and thoughts
meteorology schools such as the Hawaii Meteorology University,
meteorology scholarships and internships or,
the precise definition various meteorology topics have.
This is a convenient chance to increase your awareness, comprehension and general smarts about the air. And you can build a foundation of expertise while discovering various topics that you choose to examine in more detail using Google or Wikipedia. And you would learn to speak of these things with a certain level of skill, savvy and finesse.  
You could talk about interesting stuff in the air.
Even if your background and underlying interest comes from simply watching the Weather Channel on TV, the additional insights you gain from a monthly newsletter like Blowin' in the Wind should prove to be valuable. Some people might use this knowledge to decide what direction to go in their careers after completing their meteorology degrees.  They may even choose to pursue a different career altogether.  In that case it is still a valuable choice. 
If I were to say you'd be more fun at parties, I'd be stretching it a bit.  But…you never know.

About once, maybe twice a month you can receive these short physical science articles. Some will describe unusual atmospheric occurrences which may be of interest to you.

So go ahead. Sign up for Article Meteorology.  Get Blowin' in the Wind...

...for F R E E.  And see at least one remarkable article meteorology aficionados would take interest in delivered to your electronic doorstep each month. All you have to do is fill in the simple blanks below and wait.  You don't even have to wait if you want to check out these...
Previous article Meteorology examples
First, some past issues of the newsletter. And now other meteorological articles below on Stuff in the Air.

These website pages give technical explanations about weather:
RADAR Weather Technical Descriptions
NOAA and GEOS Satellite Weather
Wavelengths and Satellite Pics
Multi-color Satellite photos, images and pictures
Isobars and Air Pressure Science
Meteorology Terms and Physics Equations
Thermometers and Temperature Conversions
Weather Vanes and Anemometers – Wind Speed Instruments
The problem with Global Warming
Effects of Global Warming
ADD TO OTHER SOCIAL BOOKMARKS:

Del.icio.us

Digg

Spurl