Thermometer for Temperature
by angelku's cute(illah)
In the business of weather, we use a thermometer to measure the instantaneous temperature in a specific location. The word "thermometer" came from the greek word ?????? which means warm, and meter which means to measure. Temperature is usually measured and communicated in degrees celcius or degrees Fahrenheit. The higher the reading, the warmer the temperature is.


Barry's Response
- The Greek word you're looking for, according to Wikipedia, is θερμός (thermo). Thanks for your contribution, AC(i).
Like the medicinal thermometer pictured above, most
thermometers used for weather observations
have liquid-filled tubes like the medicinal one pictured above. For the Canadian outdoors, it's usually alcohol (which has a lower freezing point) instead of silver-coloured mercury.
Some thermometers can hold maximum and minimum values. They work better lying down than vertically. Their properties interact with the physics of the fluid inside to leave a mark at extreme temperatures. Once the mark is made, the observer can record the reading and reset the thermometer
How long have we had the
ability to use a Thermometer for Temperature measurements?
Temperature has been understood for thousands of years, but thermometers have only been around for a little while. Galileo
Galilei
invented the first thermometer in the 16th century. Water and air pressure were used to measure temperature changes, but it wasn't very accurate.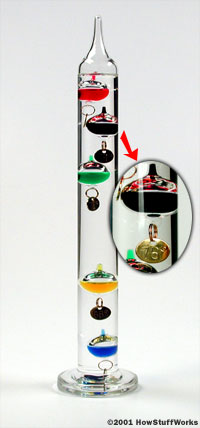 In 1714, Gabriel
Fahrenheit
invented the first modern thermometer. The freezing point of Fahrenheit's thermometer was 32 degrees, and the boiling point was 212 degrees. Anders
Celsius
developed a competing scale in 1742 that divided the range between freezing and boiling points of water into 100 degrees. As a result, this scale became the international standard for measuring temperature.
There were also alcohol-based thermometers and
bimetallic thermometers
in the 19th century, which used two metals with different coefficients of thermal expansion to measure temperature.
There are different types of thermometers today, like digital thermometers, infrared thermometers, and thermocouples, which measure temperature differently. Sensors like these are used for everything from measuring body temperature to monitoring industrial processes.
search
this site for
more information now.
ADD TO OTHER SOCIAL BOOKMARKS:

Del.icio.us

Digg

Spurl