Thermometer for Temperature
by angelku's cute(illah)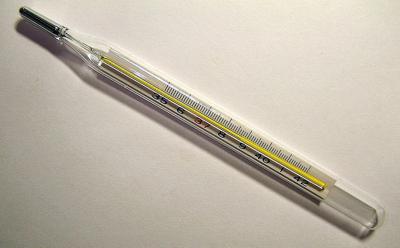 A clinical thermometer
In the business of weather, we use a thermometer to measure the instantaneous temperature in a specific location. The word "thermometer" came from the greek word ?????? which means warm, and meter which means to measure. Temperature is usually measured and communicated in degrees celcius or degrees Fahrenheit. The higher the reading, the warmer the temperature is.


Barry's Response
- The Greek word you're looking for, according to Wikipedia, is θερμός (thermo). Thanks for your contribution, AC(i).
Most
thermometers used for weather observations
use a liquid-filled tube, similar to the medicinal one pictured above. Sometimes the liquid of choice is the silver-coloured mercury, but for the Canadian outdoors, alcohol (which has a lower freezing point) normally gets chosen instead.
Some thermometers have maximum and minimum value retention capabilities. These devices work better lying down, rather than vertically oriented. They have properties engineered to interact with the physics of the fluid inside to leave a mark at the extreme temperature desired. The observer can then record the reading associated with the mark and reset the thermometer for another day.
search
this site for
more information now.
ADD TO OTHER SOCIAL BOOKMARKS:

Del.icio.us

Digg

Spurl