Bill Nye made me love science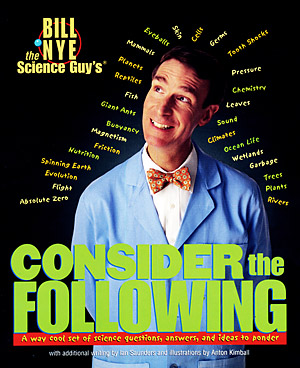 A favourite amongst many
I can remember watching Bill Nye both as a fairly young child, and again in high school. As a child, I remember thinking that the experiments performed on the show were pretty cool, and that it might be fun to one day become a scientist.


Little did I know that science experiments are not always as fun as those shown on Bill Nye. However, I do believe that science is as interesting as Bill Nye portrays it. There is amazing stuff happening in the world of science, and Bill Nye did a great job of making kids aware of some of it.
In high school, one of my science teachers insisted on showing us Bill Nye episodes. I can remember him dancing along to the theme song, and the class singing along to the songs and raps. It helped to ingrain into our memories many of the basic principles of science.
Today I am a biochemist, and do believe that some of my interest in science was due to the Bill Nye shows. While I no longer watch Bill Nye, I continue to watch science shows such as Mythbusters and Daily Planet. While these shows are interesting to me now, I don't think that as a child they would have captivated my attention the same way as Bill Nye.
I hope that schools continue to show Bill Nye and that networks
air
these types of shows during the afternoon in the hopes of encouraging more children to enter into the frustrating, but extremely rewarding and often fun world of science.
Barry's Response
- Yes, that would be ideal.
Search
this site for more information now.
ADD TO OTHER SOCIAL BOOKMARKS:

Del.icio.us

Digg

Spurl