Bill Nye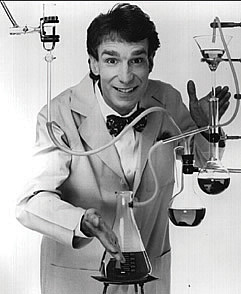 The Science Guy!
I have seen Bill Nye the science guy. I watched it when I was in school. There where some good episodes. Eventually after a while I did get sick of but learned a lot from it.


Some of the topics were very interesting and had a lot of scientific descriptions and experiments involved.
I would not know about shows but I know that Myth Busters would be all right.
I don't think this genre is a waste. If there was more money involved I think it could be better and kids would watch it.
Barry's Response
- It's all good. I think this science guy will leave a legacy that will persist for some time to come.
This educational program, which Disney and PBS brought to us during most of the 90's, was perfect for the new Millennial generation. They were just getting into school, hungry for knowledge and entertainment. Music, bowties, comedy,
action and science
...what a mix!
Speaking of mixes, the song parodies at the end of most episodes made it even more entertaining than you could imagine. This may be the only thing some remember of grade-school science. But it's still a good thing.
♪♪Science Rules♪
Search
this site for more information now.
ADD TO OTHER SOCIAL BOOKMARKS:

Del.icio.us

Digg

Spurl