Canada IS Cold.
by Issa
(Toronto, Ontario, Canada)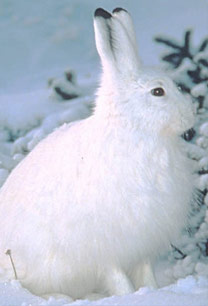 Cold Critters in Canada
I have lived in Canada from almost birth and I am not getting used to it. I will though admit that the winters appear to be less intense than I remember from my youth.


Up until last year there don't seem to be the blizzards that required you to walk backwards at times to protect your face. There seem to be less of the kinds of winters that had several weeks of constant sub-freezing temperature (less than 0C or 32F) that would allow ponds and small lakes to freeze over to permit safe ice-skating.
Despite what would appear what would be global warming, Canada is still cold. It is not cold all the time or everywhere. Vancouver, on the west coast of Canada, often has moderate temperatures. It often rains more than it snows.
The rest of the country has real cold. Some places experience temperature in the range of -30C (-22F). This is the kind of temperature that is quite hard to believe, even while experiencing it.
What really concerns me are temperatures below -10C. For this I often make a quick check to www.theweathernetwork.com or CP24 on TV. On occasion I will look at my favourite cities I have saved on my Google or Yahoo homepages.
Environment Canada has some
long range forecasts
available on their site. This is not much use for my personal needs. What I want to know is: What coat or boots to I need
today? The site might useful to some who might want some long term planning ski resorts, construction, etc.
I will still question its usefulness though since that even though there might be still some statistical accuracy a business must be prepared for anything. What would probably useful is long term climate. E.g. Should I open an outdoor skating rink in southern Ontario if the trend over the next 10 years is to have less than 60% of winter days I won't have skate-worthy ice?
The site overall is OK but usability seems could use some work. The map for the Analyses & Modelling seems to be just slapped in there and without nice easy to use visual cues and hints for the non-meteorologist. Some of the links in the side navigation leave the site and thus you lose your navigation. This little annoyances does not encourage me to explore the site more especially the site has information I am not desperate for. I may check out again one day in the future but not likely too soon.
In summary Canada is cold. Weather (short term) is useful to know, while climate (long term) is good to know, not as immediately useful.
Barry's Response
- Thanks for the input, Issa. I realize climate forecast information is not for everyone. But some find it interesting, just for fun or for good reasons like the ones you give above.
Search
this site for more information now.
ADD TO OTHER SOCIAL BOOKMARKS:

Del.icio.us

Digg

Spurl