Environment Canada Weather
*** 20th Anniversary: 2003 to 2023 ***
Check out Enviroment Canada Weather: Accurate forecasts everywhere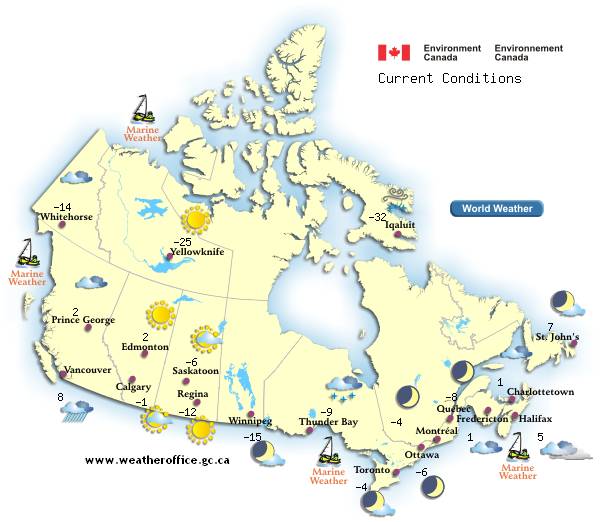 Environment Canada National weather map
Have you ever heard of Enviroment Canada weather forecasts?  Here's a sample map from their site.  Click on it to go to the right weather site.
Are you curious about Canada's ever-changing weather?  Stay on top of the weather with Environment Canada's accurate forecasts.
Traveling around Canada, you might be amazed at the landscape diversity, wild weather and the seasons.  It's a beautiful place.
Is Environment Canada the best place to get forecasts?  With the latest technology, Environment Canada has the most accurate and sophisticated forecasting system in the country.  They also update their forecasts frequently, so they're always up-to-date.
Environment Canada's advanced technology, accuracy, and frequent updates helps make their forecasts unique.  But I have to tell you something.  There's a (common) spelling mistake in this title.  The government agency is called Environment Canada, with an extra "n".  Other common spelling errors include envirorment Canada weather, enviorment Canada weather and enviornment Canada weather.

Since Canada is a big country, having a single government body handle meteorology for everyone and produce maps and forecasts would probably work best if the country were divided into practical segments.
At the end, the pieces could be integrated to make a whole picture.  A bit map.

That is basically how it works. On their home page, you can click anywhere in the province's blank space away from one of the major cities shown on the map to pick a province.  If you want to explore individual cities within that province, you can pick one from the second map that appears or use the pull-down menu in the upper right.
You can skip the second map and go straight to the forecast by picking a major city directly from the national map.
Following your selection, you'll see your city's current weather forecast, including high and low temperatures for the next five days.  We get cloud, rain, or snow forecasts and wind forecasts for the next few days.
What else does Enviroment Canada Weather have for us...
A banner at the top of the city's forecast page will tell you if there are any weather warnings or watches in effect.  Environment and Climate Change Canada (as it's officially called now) issues weather warnings when severe weather could harm or endanger people or property.  Weather warnings are issued based on different criteria.  Some of Environment Canada's weather warning criteria are as follows:

-Whenever there's a risk of wind gusts of 90 km/h or more, hail 2 cm or larger, or heavy rain that could cause flash flooding, a severe thunderstorm warning is issued.
-A tornado warning is issued when a tornado has been spotted or when there is strong rotation in a thunderstorm that could produce one.
-A winter storm warning is issued when there is a risk of significant snowfall, freezing rain, or blizzard conditions that could disrupt travel and cause power outages.
Here are a few examples of what Environment Canada looks for when issuing weather warnings.  Some of the warning criteria depend on the region and the severity of the weather event.  For the latest weather warnings in your area, check Environment Canada's website or local news outlets.
Environment and Climate Change Canada (ECCC)
Climate change services from Environment Canada include weather information, monitoring, and modeling.  They're here to help you understand and prepare for the impacts of climate change on weather.  Environment Canada offers these climate services:
-Environment Canada collects and analyzes weather and climate data across Canada and makes it available to the public through various channels, including their website, Climate Data Online, and Climate Information Services.
-Modelling and projections of climate - Environment Canada uses sophisticated computer models to simulate and project future climate conditions, like temperature, precipitation, and extreme weather.  You can use these models to identify climate change risks and vulnerabilities.
-Adaptation and resilience - Environment Canada works with various partners and stakeholders to develop and implement climate adaptation strategies to make communities and infrastructure more resilient.
-Education and outreach on climate change - Environment Canada offers educational resources and outreach programs to raise awareness and take action.
Learn a bit by experience...
Play around with this site a bit. You can access satellite and radar imagery if you want, or weather warnings for other parts of Canada if you want, by clicking on the text links at the top and bottom.  Look at NAV Canada aviation forecasts, weather maps (like model outputs and long-range forecast maps), or view past weather data for your location.  Click on the city name (or each province's two-letter code for more locales) and then scroll down to Past 24 Hours.
Be aware of capricious weather.
Weather forecasting combines science and technology to predict the conditions in your local atmosphere.  This weather page lets you pick where to go.
There are lots of other options, including things I haven't discovered yet.  You might be able to find them on back pages of the Enviroment Canada weather site, which changes in format from time to time, so this description might need updating once in a while.  
You can also find nation-wide weather warnings, weather maps, and seasonal forecasts on the EC website, and there are a lot more options if you're interested.  There's even one for meteorology careers in the military and civil service.   Let us know what you think of the new Enviroment Canada Weather website.
Experienced the cold?
Everybody knows Canada is cold. Always. What do you think?

This country never has summer. Or does it?

Ever been to Canada? Or some other northern place? Russia? Sweden? Alaska?

Antarctica??

Was it a shock?
Other cold weather examples
Look here to see contributions from other visitors to this page...

Not cold when you love it...I mean the climate...

For sure between late October and end of March it is cold. But like before..Not too bad this time because of climate changes? Barry's Response - It's …
Winter in a truck

One year my husband and I were having a tire changed in Butte, Montana. Our truck was in the shop, and he had gone outside to check on it. As he walked …
canada is allways cold

Canada can be cold but it is not that bad depending on where you live in Canada. Canada does have a summer. It happens for two-three months a year. I live …