Environment Canada Weather
Welcome to Enviroment Canada weather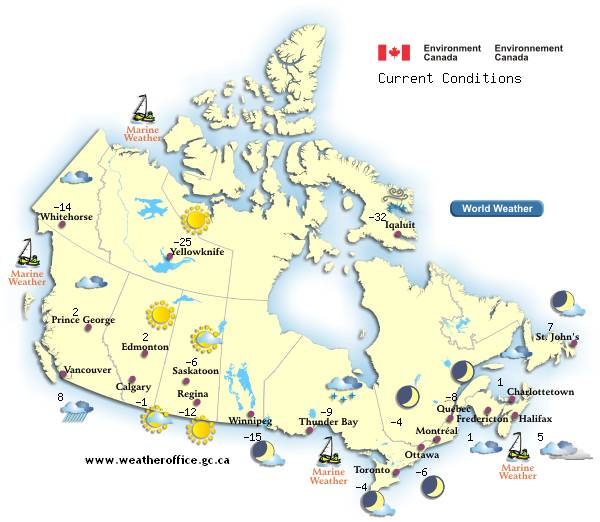 Have you ever heard of Enviroment Canada weather forecasts?  This sample map is from their home page. Click on it now go to the correct weather site in a new tab.

I have to tell you something.  This title is a misspelled. This government agency is called Environment Canada, with an extra "n". Other common spelling errors I've seen include envirorment canada weather, enviorment canada weather and enviornment canada weather.

Canada is a very large country and a single government body handling the meteorology for the entire area while producing maps and forecasts for all areas would probably function best if the country were divided into practical segments for individual servicing.
Then the pieces could be integrated at the final level to make a whole picture, a bit map.
That is basically how it works. Their home page allows you, the user, to select a province by clicking anywhere in the province's blank space away from one of the major cities shown on the map.  Then you can examine several individual cities within that province by picking from the second map that appears or using the pull-down menu in the upper right to get one of several large and smaller communities.
If, instead, you pick a major city directly from the national map (the first page you saw), you bypass the second map and go straight to the  forecast for that city.
Once you have selected your city, its current weather forecast shows up, outlining the high and low temperatures for each of the next five days. It lets us know when clouds, rain or snow is expected, and provides wind forecasts for the next day or so.
What else does Enviroment Canada Weather have for us...
...besides 5 day forecasts?
If there are any weather warnings or watches in effect or recently ended, a banner at the top of the city's forecast page will tell you so.
Play around with this site a bit. Notice the list of text links at the top and again at the bottom-left, where you can access satellite and radar imagery if desired, or weather warnings for other parts of Canada. You might want to look at NAV Canada aviation forecasts, examine additional weather maps (such as model output and long range forecast maps), or view past weather data for your location.  To do this, navigate to the city page (either click on the name or each provinces two-letter code for more locales), and scroll down to select Past 24 Hours.
Weather forecasting combines science with technology to predict the conditions in your local atmosphere at some time in the future. With this weather page, you get to pick where.
There are many other options.  And this includes many things I have yet to discover. See if you can beat me to them hidden on back pages at the Enviroment Canada weather site, which does change in formatting from time to time so this description may need updating occasionally.

I have also used other areas within the EC website for nation-wide weather warnings, weather maps and seasonal forecasts quite regularly, and there are numerous other options that may suit your interests as well. Even one for meteorology careers in the civil and military service. Please let us know what you think of the Enviroment Canada Weather website now.
Experienced the cold?
Everybody knows Canada is cold. Always. What do you think?

This country never has summer. Or does it?

Ever been to Canada? Or some other northern place? Russia? Sweden? Alaska?

Antarctica??

Was it a shock?
Other cold weather examples
Look here to see contributions from other visitors to this page...

Not cold when you love it...I mean the climate...

For sure between late October and end of March it is cold. But like before..Not too bad this time because of climate changes? Barry's Response - for …
Winter in a truck

One year my husband and I were having a tire changed in Butte, Montana. Our truck was in the shop, and he had gone outside to check on it. As he walked …
canada is allways cold

Canada can be cold but it is not that bad depending on where you live in Canada. Canada does have a summer. It happens for two-three months a year. I live …
ADD TO OTHER SOCIAL BOOKMARKS:

Del.icio.us

Digg

Spurl