Hamilton
by Kenny MacInnis
(Hamilton, on)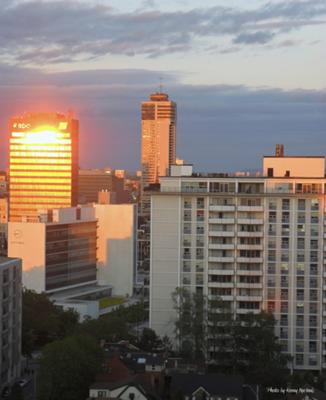 Hamilton a beautiful day
Hamilton on fire Yesterday

Barry's Response - Really? You mean Steel City? Hamilton, Ontario? Land of Tim Hortons? Nice photo and thank you very much, Kenny.

For those not familiar, Hamilton is one of Canada's major cities, an hour or so southeast of Toronto. It sits on the west end of Lake Ontario. The city experiences a warm humid continental climate, one where recent climate change has pushed it from Dfb to nearly Dfa (warmest month, July, averaging 22.0 degrees Celsius or more, day and night).

The highest temperature recorded at the Hamilton Airport by Environment Canada between 1971 and 2000 was 37.4, but they have seen temperatures as high as 38.8 since then. The record low is -28.

In most years, though, the temperature does not go significantly above 32 or below -16. The snow is normally gone by mid-March. Summers can quite muggy through July and August and February is the windiest month. The growing season is a good solid 6 months most years.

The photo shows a reflection of low sun off of one of the downtown office towers. Hamilton is a good sized city of near three-quarters of a million in its metropolitan area.

By the way, there is also a Hamilton in New Zealand, "the fountain city". The "City of the future".

Search this site for more information now.


ADD TO OTHER SOCIAL BOOKMARKS:

Del.icio.us

Digg

Spurl