Hated It.
by Josh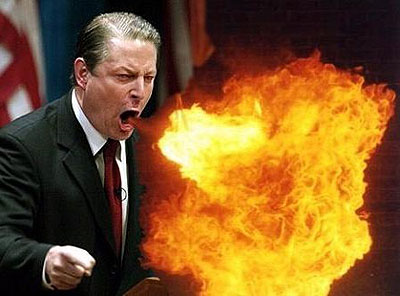 What is Al Gore full of?
Where are the facts? Honestly after all is said it's all speculation. I also really don't enjoy some rich holier-than-thou telling me how to live my life and how I ruined the environment. It's offensive! Also on the subject of entertainment... where is the entertainment? This was all very long winded and no action at all.


Look, if you are going to insult me, whilst you fly around on a private jet and use more energy in your house than my entire town you can go right ahead and eat it! I would neither recommend this nor see it again. I am not a democrat or republican, so there is no agenda here. Lets just all live out our lives? Please?
Barry's Response
- Right, Josh. Not exactly a case of
leading by example,
is it?
Search
this site for more information now.
ADD TO OTHER SOCIAL BOOKMARKS:

Del.icio.us

Digg

Spurl