Hot nights in the Charlottes
by Jennifer
(Sechelt, British Columbia)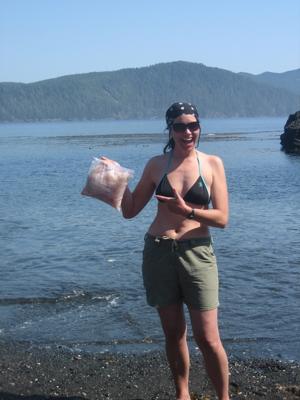 The author, in her typical outwear during her kayak excursion in North-western Canada.
Imagine an area so hot that when you camp out at night you find yourself peeling your clothes off instead of putting more on.


Imagine a temperate zone with sunshine for weeks, leading to bikini wearing days.
Imagine a wind storm blowing like a hair dryer so your wet clothes dry in mere minutes.
Such was my experience to the Queen Charlotte Islands this past summer. Yes, really.
For those not in-the-know, the Charlottes are an island archipelago just 40 miles south of Alaska and 50 miles off the coast of Northern British Columbia.
The island chain is known for unpredictable and unstable weather conditions. Also, the fact that they are located so far North, one would most assuredly expect cooler temperatures. Perhaps cold. And rain. Afterall, this is the place where weather is born.
My kayak tour through this temperate rain forest, however, was graced with hot, yes HOT weather most days. I nearly lived in my bikini and those nights spent camping on Turning Point beach found me stripping down to my birthday suit.
So, I hear that Canada has cold weather.
I am still waiting for it.
Barry's Response
- Thanks Jennifer. Even that part of Canada has winter as well; just wait for it. The winters there are not as cold as they are elsewhere in the country, but they are wetter.
The record temperature for Pallant Creek, one of the towns on the main island, is 33 degrees Celsius in August 1993. That's pretty decent. The average January night does not go significantly below freezing even though the place does get over two feet of snow in a typical winter. The data comes from
Environment Canada.
Where is the island? Haida Gwaii (officially) is off the BC coast, 300 or so km NW of Vancouver, at roughly Edmonton's latitude of 53 degrees N.
so...What's in the bag?
Search
this site for
more information now.
ADD TO OTHER SOCIAL BOOKMARKS:

Del.icio.us

Digg

Spurl