Rain Gauge
by Manoj Tripathi
(Bareilly, Uttar Pradesh, India)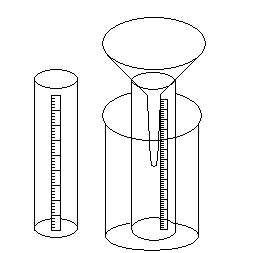 Simple ingredients for a scientific instrument
Its been many years since I did a school science project, but my daughters were working on a weather gauge project when in High School. They were asked to make a rain gauge to measure the quantum of rainfall.


I assisted them in finding the material and doing the research online. Our biggest problem was that we were not able to find any good sites which would deal with children's projects for school. There definitely is a need to have some interesting sites which can give children some idea how to go about creating working models of science projects. They should have a variety of topics and should not require too many things to be bought from the market but should use things available at home.
At times we have old electronic goods which are non functional and are unfit for repair. These items can be salvaged and some working parts can be utilised to construct some projects. I never throw away anything which can be even remotely useful. My box is full of nuts and bolts and transistors and diodes etc. which can be used in some ways.
I love to work on such projects and would like to come up with some creative ideas.
I used an old bottle with a funnel to
create the rain gauge.
I stuck an old plastic scale to the side of the bottle to measure the amount of water collected in the bottle. The calculations were done by working out the area of the circle formed by the funnel on top and then dividing the volume of water collected by the area to get the height of the rainfall.
Barry's Response
- An ingenious device, Manoj, and I'm sure it worked well.
The world loves inventors,
although it may not seem like it all the time. And they may just beat a path to your door if you come up with the right mousetrap.
Search
this site for more information now.
ADD TO OTHER SOCIAL BOOKMARKS:

Del.icio.us

Digg

Spurl