Weather stations
by nishanth
(US)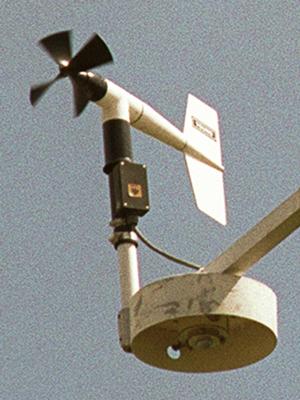 For measuring wind
A weather station is used to find temperature recorders, humidity data loggers, wind speed instruments and devices for cloud information records.


Barry's Response
- Yes it contains instruments that measure those parameters. If there is a human observer, the station also reports precipitation type, cloud cover and cloud type. They also have barometers to measure pressure.
The brain of a weather station collects the information transmitted by the peripheral instruments, stores it and even
processes weather data
if sophisticated enough. Some are dedicated to a single instrument, but many handle data streams from multiple sensors (typically a thermometer, barometer, hygrometer for humidity, anemometer for wind speed, vane for direction, and a rain gauge) simultaneously. These data loggers stay on site with the instruments, are small enough to be portable and run off of batteries. They usually work 24/7.
More sophisticated instruments measure specialized data. Examples include:
Visibility measured by a Transmissometer
Bottom height of clouds directly overhead measured by a Ceilometer
Precipitation type and droplet size instruments - a Disdrometer for instance.
The automated equipment makes these stations comparatively cost-effective. Especially when unmanned observations can be made and recorded in a remote or otherwise hard-to-access location.
How to get the data? Sometimes technicians download from the machine directly, but these days they can broadcast a duplicate of the data back to a receiving station, using a cell-phone for instance. More batteries, please.
Search
this site for more information now.
ADD TO OTHER SOCIAL BOOKMARKS:

Del.icio.us

Digg

Spurl