Whiskey Jacks at Arrow River
by Janice St-Cyr
(Thunder Bay, Ontario)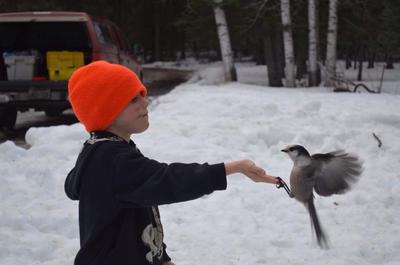 Whiskey Jack at camp on Arrow River
My grandson Brody with a Whiskey Jack at their camp on Arrow River, Ontario west of Thunder Bay.


Barry's Response
- Well, looks like a good time, Janice. Cute little guy with the bright orange toque. What type of bird is it? Is he feeding it?
It looks like they get a substantial amount of snow in this region.
The closest Environment Canada monitoring station to this camp for which I have "Climate Normals" data is called the Sioux Lookout Airport. It's about 70 km west of the camp.
This place is quite cold. The annual average temperature is only 2 degrees Celsius. In January, for instance, it rarely exceeds 0°C and many nights can dip below -30°C throught the winter. The average high at this time of year is about minus 10 with minus 20 overnight.
Summers are pleasant enough, though. The frost-free growing season runs from the last week of May until mid-September, typically. July offers great camping weather with average hights around 24 and 14 overnight. Occasionally you might see an afternoon top off at 30°C or better, but you might also see a cool night here-and there dipping into the single digits.
This place is situated on the Canadian Sheild, and is more moist than most of the prairies. It gets over 550 mm of rain, mostly between May and September, and 100 cm of snow, mostly between November and January, each year, piling up to 50 cm deep by February. At least twice per year these people can expect a good storm delivering at least 25 mm of rain in a day. And 10 cm or more of snow one or two days per year as well.
Winds here are from the south most of the year, northwest in Winter. Speeds are light-to-moderate, averaging about 12 km/h most of the year. The highest gust recorded was 111 km/h.
Some might say this is a typical Canadian climate. I would say, "Nice place to visit..."
ADD TO OTHER SOCIAL BOOKMARKS:

Del.icio.us

Digg

Spurl