Snow Wallpaper -- Where did all this snow come from?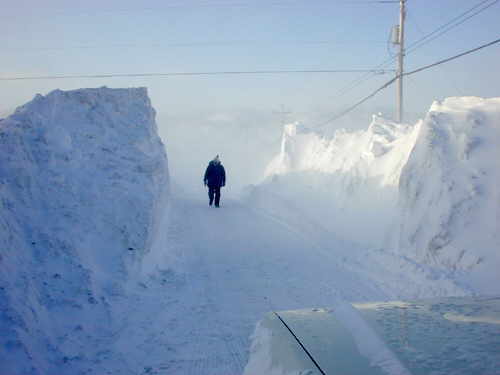 For more of these white winter images and fantastic snow wallpaper to chill your bones, click with your almost-frozen mouse on this blue text above or any photo below.
But how did they get so much in the first place?  It may seem like a mystery.  I think it would be awesome to experience this amount of snow for real.  But most of use will only see it in pictures. The scenery is worth it, and so is the adventure.
Cold Storm Chasers
"A snowflake is one of God's most fragile creations, but look what they can do when they stick together!" I don't know who said that but it's pretty cool.
Every so often, a major storm hits many regions of the Northeast part of the USA and at the same time, nearby areas, including Eastern Canada, with its rugged terrain and attractive ski resorts, also receives unprecedented heavy snowfalls and blizzards...these snow pictures were taken in Newfoundland after one such storm.
You can see that storm winds in these photos cause the snow to accumulate in deep drifts and while leaving nearly bare ground nearby. This kind of drifting happens near large objects such as a house and in turbulent areas (often caused by the large objects).
The snow wallpaper tells it all. Scroll down to see the next photo.

Do you have pictures to show the world? Put 'em up on your own website and maybe even make significant money at it. This snow wallpaper page was one of my first ever made. It does what it's supposed to do. See my story here
White Mountains
Here is an interesting angle on the after effects of this storm.  Looks like a mountain, doesn't it. It's actually a house partially buried in a snow drift.
Many people work in snowy environments shown here and on this second page, such as keeping this gas plant operational or working so hard to make their homes accessible in the other photos. Now have a look at the  winter clothing they need to keep them warm as they progress.
It provides protection from wind and moisture penetration - uncomfortable sensations associated with winter conditions.
But the results of this kind of weather are not ALL work and toil. These conditions may be suitable for skiing or skating.  Of couse, summer activities like sailing will have to wait a few more months, but we can have fun in the meantime.
An element of danger accompanies the thrills too; be forewarned.  In the western mountains of Canada, between British Columbia and Alberta, we have seen wild avalanches, and deadly ones are commonplace in the Canadian Rockies. That fast-moving, huge wall of snow instantly crushes everything in its path, believe it or not. Pretty much like a landslide.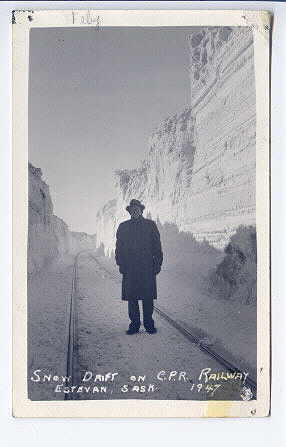 Everybody likes to talk about the effects this extreme winter weather has on our society...but how unusual is it, really? We often sound like major storms, both summer and winter, are something that has come into existence recently, and some of us point the finger at climate change.

However compare the winter weather pictures above and look at this snow wallpaper here and you can see the similarities between the conditions shown in two different points in history. The inscription says 1947. Not only that, the place is out in the middle of the nearly desert-like dry Great Plains of North America, in southern Saskatchewan.
Now...That's unusual!
Now you can Have you Say
Have a quick look at this short time-lapse video and see if you can remember any great storms in your life.
Wanna Show us your great Snow Pictures
Awesome ski trip you were on? Have some good photos of the place? Did your town endure the most horrific storm recently and you need us to see them? Let the world see. Right Here.

All you need to do is check the instructions in this form. Tell us a bit about it and that will be published as well.
What Previous Visitors Have Sent
Click below to see contributions from other visitors to this page...

beautiful-snow

it hasnt snowed in florida in a while but i have a feeling this is the year! Barry's Response - Thanks Shnitsel... And maybe not in Canada.. Ha …
fun-in-the-snow

One day i was all alone and i saw snow!!!!! And my mommy kissing santa and im not sure if i should tell me daddy! Help me plz!! Love, …
Nearly stranded at school at Geneva, New York

The year was 1946 or 1947. My memory fails me as to the exact year but the details are accurate! We had gone to school in the morning as usual. The …
The Terrible White Monster

In 2008, the worst storm hit. I was pregnant and having a baby when the hospital roof blew off! I was freezing cold because of the blizzard in the delivery …
oh my god.........

Last night, I was outside and there was no wind but when I got out there it hit me so hard, I fell over and I was knocked out. Now I am in my bed with …
Yah

When I was 2, I was in a car accident with my dad, going to get my mom from work. We went to stop and another car didn't stop. They hit us. we weren't …
snow storm death

One day, on a stormy snow storm, me and my family were sitting on our couch. Then all of a sudden, we heard a bog crash. We looked outside and saw that …
Rural snow

Well today I have to walk to the bus stop (because my car broke down) to send my kid to school. I know it will be so cold, and not anyone can give me …
Winter Tornadoes Not rated yet
I was in my house, and all of a sudden I heard a crack in the attic. The door was opened and I got freaked out. I told my friend...so later that night …
AHHHHHH Where Going To crash Not rated yet
It was just Friday and I was getting home from school, but when I get home it seemed quiet and I didn't see any lights on, so I asked my mom if the lights …
---
Would you rather see summer severe weather picturesinstead of these winter scenes?  Do so and read a bit about those kinds of storms. And here are some other pieces of information you might find handy.

Detailed Satellite Photos

Maybe you wish to see some science news articles. If so, get my free weather newsletter right into your inbox.

ADD TO OTHER SOCIAL BOOKMARKS:

Blink

Del.icio.us

Digg

Furl

Google

Simpy

Spurl

Technorati

Y! MyWeb