*** 20th Anniversary: 2003 to 2023 ***
Weather in Alberta Canada
Here's a look at the weather in Alberta Canada: from radios to Chinooks
Here's the weather in Alberta Canada.  The Alberta weather forecast for the next five days from Environment Canada.
Join us on an exciting journey through Alberta's weather!  This page tells how old-fashioned radios keep people updated about the weather with modern technology.  
It also explains how visually impaired people get weather info.  Discover Alberta's wild weather - it's like having all four seasons in one day!  
Find out, for example, how percentile analysis compares today's weather to the past.  See a bit abouit chinooks, warm winds that change things up.  Discover how Alberta's landscape is shaped by rain and drought.
Explore places influenced by the weather, from lush forests to high mountains.  The magic of Alberta's climate and why it's so special can be uncovered below.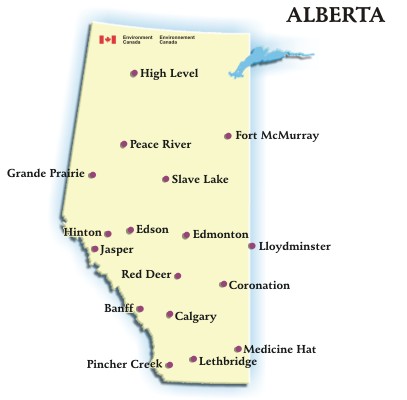 ECCC map of Alberta
Choose your community from the Alberta map on the new page that comes up after clicking on the link above, or the box to the right and you'll get current conditions and forecasts for that city, along with any relevant weather warnings and watches.
Normal weather in Alberta Canada
Why this place? 
-  Alberta's natural beauty includes the Rocky Mountains, Banff National Park, and Lake Louise.  The picturesque province is a great place to go hiking, skiing, camping, and more.
- The oil and gas industry drives Alberta's economy.  It's also got a highly skilled workforce, so businesses like it.
- Alberta consistently ranks highly in quality of life surveys thanks to its great healthcare system, low crime rate, and strong education system.
- People from all over the world live in Alberta, and its cities are known for their diversity.  Museums, theaters, and galleries abound in Calgary and Edmonton.
- Albertans are friendly and welcoming, so newcomers feel right at home here.
- The Oilers.
- The Flames.
Alberta's natural beauty, economic opportunities, and high quality of life make it an attractive destination for many.
Watch this stunning video of Alberta scenery.

Alberta has a continental climate.   
In a typical year, Alberta experiences all major types of air masses.  All on the same day, some might say.

During the milder parts of the winter, we have maritime polar air, continental polar when it's cold, and continental arctic during the occasional deep freeze, bringing overnight lows well below minus 20.  Summertime might bring tropical air mass into our region once in a while.
Baroclinic zones, boundaries characterized by sharp temperature changes, separate two air masses.  Most of our annual precipitation comes from them, sometimes with troughs and fronts.
Temperatures in the southern part of the province are usually warmer than in the north.  The daily (24-hour including nighttime) range from about 18°C in the south to 13°C in the north and the western mountains.  On a map of Alberta, midwinter average temperatures range from -10°C in the south to -24°C in the north.  The coldest temperature ever recorded was -54°C.  Not your typical weather in Alberta Canada.
Here's the temperature info for Alberta's two biggest cities.  These graphs are from WeatherSpark.com 
Calgary
Edmonton
Percentiles help users understand how the current temperature compares to the historical temperature data for a location.  The site shows temperature percentiles for daily highs and lows.
WeatherSpark.com's temperature percentiles are based on historical data for the location, typically going back decades.  It compares the actual temperatures on a given day to the distribution of temperatures for that same day over time to calculate the daily high and low temperature percentiles.
Let's say the high temperature on July 1st this year is 27 degrees Celsius.  By determining what percentage of historical daily high temperatures for July 1 were equal to or lower than 27°C, WeatherSpark.com calculates the percentile for that temperature.
The graph shows that 27°C degrees Fahrenheit was higher than 90% of all historical daily high temperatures for July 1 in Calgary, and WeatherSpark.com would report that the July 1st high temperature of 27 (which is about 80°F)  was in the 90th percentile.  
On that day of the year, Calgary's tenth percentile high would be 12°C.  A cool day indeed.  Light pink shaded curves follow the dark red line, which shows the average high (21°) for that day.  Heavier pink shaded curves correspond to 75th percentiles (and 25th percentiles on the underside).  Overnight low temperatures are represented in the same way by the blue line and shaded areas.
Basically, the temperature percentiles on WeatherSpark.com contextualize current temperature data by comparing it to historical data.  Users can see if the current temperature is typical for the time of year or if it's unusually high or low.
You can use WeatherSpark.com for practically any city in the world.
What about Chinooks?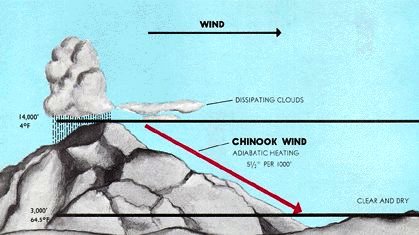 Alberta's weather is known for its Chinook wind
The warm wind blows eastward from over the mountains and changes everything.  Several times a year, it blows out cold, dense winter air and boosts temperatures in the south.  It can dry everything out pretty fast too.
Calgary and Lethbridge get the most wind and warming, while Red Deer, Medicine Hat, and Swift Current, Saskatchewan also get some.
Problems often arise from excessive rain and from drought.  Most of it falls in the foothills, causing flooding in Calgary every few years.  We get most of our moisture from rain between May and July.  And snow in April into May.
Drought can happen anywhere, anytime.  When the crops are dying of thirst, you know someone's complaining. 
Foothills are gentle slopes or low hills at the base of a mountain range or hilly area.  They're usually at the transition between flat plains and higher elevations, and have a gradual rise in elevation and rolling terrain.  Forests and grasslands cover the foothills in Alberta and elsewhere, and they provide a transition zone between the rugged mountains and the relatively flat areas to the east.  Agriculturally, foothills provide fertile soils and a moderate climate, and recreationally, they offer hiking, camping, and other outdoor activities.
We have three distinct ecoregions in Alberta Canada because of the climate and weather.  There's mostly grassland 
and farmland in the dry south.  In the colder north, there's a lot of wooded area, the Boreal Forest; the middle area between transitions.  The alpine and uplands in or near the high mountains are the third ecoregion.  There are a lot of ecological subcategories within these categories.  Have you noticed that?
Let's talk about the air quality in Alberta.  A testament to its environmental stewardship, this place has pristine air quality.  Despite its vast natural landscapes and strict regulations, the province has clean, fresh air.
Visitors and residents enjoy the breathtaking views, knowing they're breathing some of the purest air in the world.  Alberta's commitment to air quality sets a shining example.
One thing that helps us maintain it and keep it so good.  There's a piece of legislation called Alberta's Air Monitoring Directive.
Experienced the cold?
Everybody knows Canada is cold. Always. What do you think?

This country never has summer. Or does it?

Ever been to Canada? Or some other northern place? Russia? Sweden? Alaska?

Antarctica??

Was it a shock?
Other cold weather examples
Look here to see contributions from other visitors to this page...