*** 20th Anniversary: 2003 to 2023 ***
Snow Pictures. Check this out.
Find some more great snow pictures here.
Why would you want these? Detailed and beautiful nature scenery can help brighten your room (or computer screen). Even the snowy, wintery kind.
You can use these pictures to form your favorite snow wallpaper or whichever nature pictures you prefer.  I use picmonkey.com to edit, crop, brighten and alter images to suit my needs.  It's easy and it's free.
Why do we like snow?  Here are some good reasons if you need…It's beautiful. Both urban and rural settings look awesome blanketed in fresh snow, any time of day.
Favourite activities include skiing, snowboarding, snowshoeing, snowmobiling, catching flakes on your tongue, having a snowball fight, building an igloo, sleigh riding (both downhill and the horse-drawn type) and snowman building.  And, oh yeah, Winter Olympics.  
What else?  No two Snowflakes are identical.  We've always romanticized a White Christmas.  It's a great time to sit by the fireplace and enjoy your mug of hot chocolate or something stronger.

Snow pictures like these serve to show how enjoyable winter pictures and scenery can be, especially when used in the appropriate context. An example of this would be Christmas outdoor shots and, maybe, inspirational posters.

So...Where are the Pictures? Google is always an excellent place to find imagery. This search used the keywords "winter picture" in Google Images, but you can try "snow picture" as well. If you prefer shopping, you might find some that come with frames and can look rather classy. Try eBay, Amazon, craig'slist or kijiji.

Here we can see an amusing animated snow scene, and below are two more photos from that great Newfoundland 2003 snow storm.  See others on our snow wallpaper page.  Notice how the car and house are completely buried in the first and second photographs below. Until they get a springtime burst of solar energy, cars are not much use here. Some snow! 
If you prefer summer storms, you can see severe weather photos with vivid storms, and here is another page with pictures of environmental pollution along with some background information. Check these pages for additional images and info:

Thermometers and Temperature Conversions
Here are the snow pictures...
OK WELL OMGGG LIKE ONE TIME THERE WS SOOOO MUCH SNOW I COULDNT EVEN SEEE MY TOESS .... IT WAS CRAZYYYYYYYYY I HOPE IT NEVERRR GETS LIKE THAT AGAIN MANNN PEACEEEE - Submitted by Emily from the USA.

It gets better.  Look here!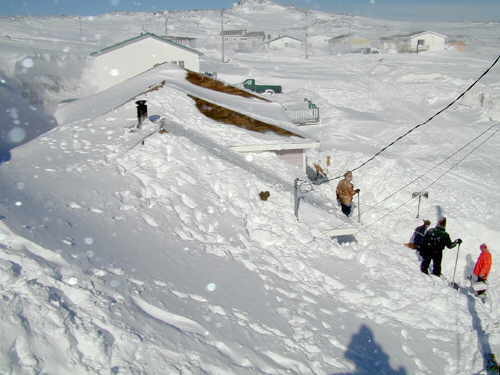 Many towns in Newfoundland & Labrador get about 4 metres of snow in an average winter (over 15 feet), with somewhat less in the capital city of St. John's.

Photo Gallery
It seems snowy pictures and photos are somewhat rare, but here are some different types of snapshots. Some of these should even be nature magazines.
Go ahead and comment on this webpage.
Wanna Show us your great Snow Pictures
Awesome ski trip you were on? Have some good photos of the place? Did your town endure the most horrific storm recently and you need us to see them? Let the world see. Right Here.

All you need to do is check the instructions in this form. Tell us a bit about it and that will be published as well.
What Previous Visitors Have Sent
Click below to see contributions from other visitors to this page...

Knock Knock, whos there??

It was a dark, cold, eerie night, when I was busy watching my favorite TV show, Heehaw, when all of a sudden.....BAM! There was a loud bang at the door. …
The joys of Winter Not rated yet
This year we were experiencing a rather dry winter and it had not snowed all winter in the Kumaon region on the Himalayas. This had happened for the first …
yes , global warming Not rated yet
Man has been raising the temperatures on earth. Man can do a lot, but I think we are giving ourselves too much credit on this one. There is proof that …
Have a look at these poster pictures as well.

Build your own online income with your own website business. Finally, have a look at how they plow heavy snow off of railroad tracks:
ADD TO OTHER SOCIAL BOOKMARKS:

Del.icio.us

Digg

Spurl