*** 20th Anniversary: 2003 to 2023 ***
Want to see some great water pollution pictures?
Are you worried about water pollution?  Here's a Google collection of water pollution pictures.
The worst of water pollution.
We should all think about them.  It's important to be aware of the problems in our world.  With the internet and social networking, this information and the disturbing images presented in these pictures are easier to spread.
You might think that after seeing this grotesque image, more and more people will agree that revolutionary methods are needed to deal with situations like this.  I'd have to agree.
Public awareness is the first step toward solving environmental problems.  We got there with pictures of water pollution.  What would happen to the air if we spread water pollution pictures and related information?  What can we do to promote caring for our one-and-only planet?
Assume we can't do anything about natural causes of air and water pollution: volcanoes, lightning, fires, etc.  We're left with anthropogenic pollution.  We have habits, industries, transportation, consumption, and waste.  All of these issues are addressed on this website.
Take a look at polluting industries.  For instance, what would help them manage runoff surface water?
What do they do to solve these problems?  A responsible company goes beyond just providing a quick and easy fix just to appease people who express concern?
Can anyone let something like THIS happen?  In order to make a real difference, we want to work proactively and rise above cheap, reactionary measures.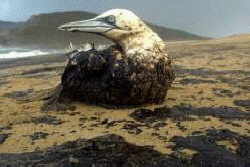 Pollution and wildlife?
It's better to look at long-term solutions for industrial facilities.  Most regulatory bodies require those designing new sites to plan the on-site operations up to and including reclamation and remediation after the facility shuts down.  That's great.  That'd be better for everyone.
We can come up with better plans by working with industry executives, government officials, and knowledgeable experts - consultants who help us find innovative solutions to undesirable circumstances.  ...both current and future. You'll be surprised by the right teams of professionals working together.
Every day, somewhere, people recover.  Pre-planning and avoiding problems is even easier...and we're getting better at it.  For now, you might notice that some of these water pollution pictures show there are as many kinds of water systems as industrial plants.
You'll need some real expertise if you multiply that by the number of polluted water sources.  It's why environmental consulting is a growing profession with a great job outlook.
So...What are your thoughts on Water Pollution?
This Stuff can be Pretty Gross
What's the worst you've seen? Anything you need to let us know about? Maybe even a picture to demonstrate what you saw. You can send it to StuffInTheAir.com right here.

This is important.
Previous Examples
Click below to see contributions from other visitors to this page...

Please refrain from posting any more water pollution pictures.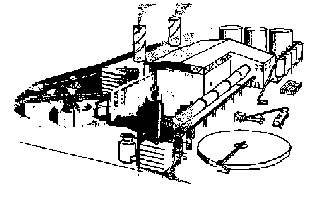 Keeping the water and industry clean.
"I believe that water is the only drink for a wise man. "
~Henry David Thoreau

Maybe you know an old industrial plant that has these problems: removing chemicals from wastewater, controlling air quality and polluting land.
Help might be needed to start and run a water-handling system, match a system's capacity with demand, or even monitor and study operations and suggest improvements.  See if you can work in these water pollution jobs.
Air quality consulting and water pollution
Air quality can be indirectly affected by water pollution.  Although water pollution mainly involves contamination and degradation of water bodies, some pollutants can cause air pollution as well.  Water pollution affects air quality in a few ways:
- Volatile organic compounds (VOCs): Water pollutants, such as volatile organic compounds, can evaporate from contaminated water sources and pollute the air.  Volatilization, where these compounds change from a liquid or solid to a gaseous state, can release VOCs into the air.  VOCs can react with other pollutants or cause ground-level ozone and smog once they're in the air.
- Water pollution can contain particulate matter and other pollutants that become aerosolized and disperse into the air.  When contaminated water bodies experience turbulence, such as from waves or waterfalls, the agitation can cause the water to break up into tiny droplets.  Droplets can carry pollutants and be transported by wind, causing localized air pollution.
- Industrial processes that release pollutants into water bodies, like chemical manufacturing or wastewater treatment plants, can also pollute the air.  During treatment or disposal, these facilities' effluents can release toxic chemicals, heavy metals, or other harmful substances into the air, impacting the air quality around them.
- Water pollution can interact with the atmosphere and change the chemistry and composition of the atmosphere.  Some pollutants, like nutrients and organic matter, can grow algae or cause harmful algal blooms when they get into water bodies.  Gases released by these blooms, like ammonia and hydrogen sulfide, can travel through the air and impact nearby air quality.
There are a lot of factors that influence air quality, including the nature and quantity of pollutants, environmental conditions, proximity to pollution sources, and prevailing winds.  Air quality and water pollution interact in complex ways, and the specific effects can vary depending on the circumstances.
Calvin Consulting can help you with air emissions or regulations, if you know (or operate) an industrial facility that needs professional help.  You can reach this consulting group by email using this contact info:


In addition to protecting water resources, water pollution can also affect air quality and the environment indirectly.  Reduce the release of contaminants into water bodies, thereby minimizing the potential for air pollution, by taking effective pollution prevention and control measures.
Jobs in industrial design related to clean water 
Do you want to be a consultant?  Maybe you'll find the right job for your next move in the list on the right and on the employment page here:  Environmental Health and Safety Jobs
ADD TO OTHER SOCIAL BOOKMARKS:

Del.icio.us

Digg

Spurl