Global Warming Questions
by Shauna
(Westminster, Colorado USA)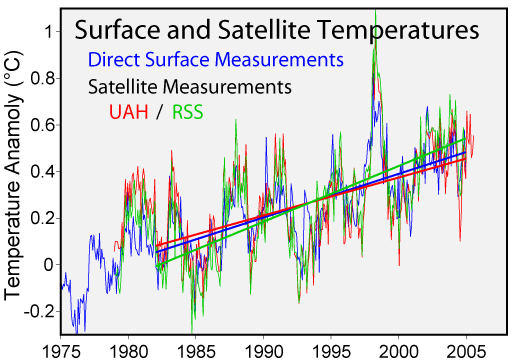 Global Warming Temperature Trend
I Have a list of global warming questions:


1. What are your thoughts on global warming? Does it exist? How serious do you think it is?
2. What signs is the weather showing that could mean that our climate is changing?
3. What do you think have been the big factors that have raised red flags to scientists that this is becoming a potentially large problem?
4. How are scientists researching the issue?
5. How can people help stop/change the problem?
6. What could possibly happen to Earth's climate in the future if nothing changes?
7. Do you think people are in denial about global warming? Why?
8. What do you think are some common misconceptions about global warming?
Barry's Response
Loaded questions.
1. Global warming - is it serious? It sure can be. Its greatest danger is that no one can predict accurately what the ramifications will be, although we think we are pretty sure of a few things. You've probably heard some of these things. The most well known is the
rising of sea-levels
and flooding of established coastal urban developments. Costly, yes. Permanent, probably. Sudden? Not really, not like Hurricane Katrina. Mankind on the whole has a few decades to relocate. Get in on the ground-floor and buy that ocean front property in Arizona like the song says.
2.
Evidence.
People can and will point to anything interesting and ascribe it to global warming. They may even be right. Hurricane Katrina for instance, but NOT the tsunami. But who knows for sure who's right, really. Weather is about norms and deviations. They happen all the time and will continue to do so. We seem to be witnessing a greater number and magnitude of these deviations. Is that because we're better at witnessing?
3. Political power and dollars.
4. We've been tracking it silently for decades before it became such a hot issue (pun intended). They can measure ambient temperatures at most points and elevations above the globe. They have seen the gradual yet steady changes over the last century. They
use other scientific evidence to compare these changes with changes that have occurred in past centuries, mellennia, eons etc. We have also done the same for following the history of atmospheric Carbon-dioxide (and other greenhouse gas) concentrations. There is data all over the net. Good detailed overviews are available at wikipedia. Start here - https://en.wikipedia.org/wiki/Global_warming
5. By asking how people can stop it, you might be assuming they caused it, perhaps. Or that they can have anything to do with it. Maybe, but some thinkers think we're no match for the forces of nature - God's forces if that's okay. Things such as geological cycles or astronomical cycles (see https://www.stuffintheair.com/Blowin_in_the_Wind-milankovitch-cycles-climate.html ) that affect our climates here as well.
6. If nothing changes, it wouldn't be earth. We'd all die, because we thrive on the dynamic nature of our ecosystem. If anthropogenic contributions to the global warming situation continue to exist (perhaps that's what you're asking for), who knows what will happen? Maybe nothing, other than the changes already occurring. Maybe a lot. We don't seem to want to take our chances and find out. We don't seem to have much of a choice. Activists aside, we are careening in that direction, whether it's on the backs of "human progress" or something else. Maybe they should try marching around an active volcano with their "stop global warming" signs and see how well IT listens.
7. There are sure a lot of people in denial about it. There are other people who know a great deal about it. There are a great many people who claim to know a lot but don't know squat, really. Which is which?
8. That it's not happening. That it's not going to be as bad as it actually will. That it will be worse than it actually will. That we know what's going to happen. That we can do something about it. That we can't do anything about it. That it's hopeless.
There! I almost made it through this without belittling Al Gore.
Search
this site for more information now.
ADD TO OTHER SOCIAL BOOKMARKS:

Del.icio.us

Digg

Spurl