Levi Mays Story about little boys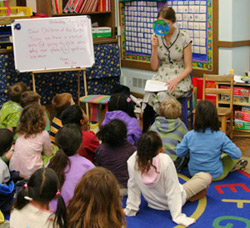 Children learning about global warming
Global Warming is not going to on


Barry's Response
- Don't know about his story, but here is a brief recap of how this thing came into being: It started as an idea over a hundred years ago, where some scientists thought burning fuels would lead to a carbon increase in the air to boost the greenhouse effect, leading to global warming. We are all familiar with that one.
It was only a fringe idea, though, until 1980 or so, shortly after Margaret Thatcher became prime minister of the UK. She was a well-respected leader (and that was a victorious uphill battle for a female in those times.) She gained the support of several countries, proposing global warming as a way of tapping into the great economic success of the USA. How? Through carbon taxes. An additional benefit for England was the support of the local nuclear energy industry (which emitted no greenhouse gases).
The Hadley Centre for Climate Prediction and Research and eventually the Intergovernmental Panel on Climate Change IPCC were born. Pretty soon we were flooded with politics and business interests posing as science.
With Thatcher's replacement in the PM's office, the interest of the government changed, until the government needed an excuse for closing the coal mines in the 1990s. That kept it alive.
By the time of Tony Blair, the rest of the world had jumped into the global warming bandwagon, which then became SO important the way it has. For example, policies existed around the world by this time and Kyoto was a big thing.
We are now bringing science back into this thing. Gonna take some time.
The English have certainly had their say with regard to global warming. See a few more examples of global warming and
England
here.
Search
this site for
more information now.
ADD TO OTHER SOCIAL BOOKMARKS:

Del.icio.us

Digg

Spurl