*** 20th Anniversary: 2003 to 2023 ***
Guide to Metric Conversion for Science, Study, and Everyday
Search for more about science and education.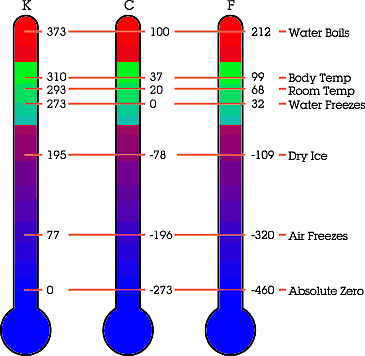 Comparing temperature scales
When you show your work at a science fair, you'll need to convert for metric units to show that you understand the importance of these units.
There are tons of conversion calculators on the internet.  Numerous websites will do the math for you when you type in the number and unit.  For any conversion table I need, I use onlineconversion.com.
You can also download free programs that convert units for you. It's best to know what they mean.
In the metric system, everything is based on 10's and powers of 10, making it convenient for scientific pursuits. It makes the math in the experiment easy. Multiply by 100 if you need to go from centimeters to meters.
Weight, mass, and volume are all related.  Liquid water Water takes up the space of a cube with sides of a centimeter.  A cubic centimeter is also called a milliliter.

Once you get used to the sizes of these units, you'll be able to estimate in metric.  You'll be able to tell whether you did your unit conversions right if you can estimate them.
We are NOT Geeks
At least that's what some people think. Do you think math helps us to understand our world? Succeed at work? Use a computer?

You bet. That reminds me, it can help make you a better gambler if you're so inclined.

What's the most important thing math helps you with?
What Other Great Mathemeticians Have Said...
Click below to see contributions from other visitors to this page...

Where did all this nonsense come from?
...you might ask. The metric system, also known as the International System of Units (SI), was developed during the French Revolution. Almost every country has adopted it since it was introduced in France in 1795.
It's all Greek to me!
Metric was designed so people around the world could easily understand and use a universal system of measurement.  Based on the decimal system, the units of measurement are related by multiples of 10.
The basic units of the metric system were originally based on physical standards, like the length of a metal rod or the mass of a volume of water. These standards have since been replaced with more precise and reproducible definitions based on fundamental physical constants, like the speed of light.
From scientific research to everyday life, the metric system is used everywhere, and it's recognized as the standard system of measurement by the International Bureau of Weights and Measures (BIPM).
Science, engineering, and everyday life use the International System of Units (SI). It's completely based on the metric system. All other units of measurement are based on the SI's seven base units. The base units are:
Length in meters (m)
Mass in kilograms (kg)
Time (s)
Current in amperes (A)
Temperature in Kelvin (K)
Mole (mol) is a measure of substance amount
Luminous intensity in candelas (cd)
All other units of measurement can be derived from these base units, either by multiplying or dividing. For example, square meters (m2) are derived by multiplying meters by meters. Cubic meters (m3) are the unit for volume, derived by multiplying meters by meters by meters.
Can we express everything with these seven simple things?
Think about the complex and nebulous world of radiation. Radiation is a physical phenomenon that can be measured in different units based on the type and context. Radiation units in SI are based on corresponding physical quantities. Here are some SI units of radiation:
- Gray (Gy): The gray measures how much energy ionizing radiation deposits in matter. Grays are equal to one joule of radiation energy absorbed per kilogram.
- A sievert is the SI unit of equivalent dose, which takes into account the different types of radiation and their effects. Radiation damage to living tissue is measured. The sievert is equal to one gray multiplied by a radiation weighting factor that takes into account the type of radiation and the organs and tissues that are exposed.
- Becquerel (Bq): A becquerel measures the rate at which a radioactive source emits radiation. A becquerel is one disintegration per second.
- Gray per second (Gy/s): The gray per second measures the amount of radiation absorbed per unit of time in SI units, while a sievert per second (Sv/s) measures the potential harm of radiation to living tissue per unit of time.
Radiation protection, nuclear medicine, and other fields that deal with radiation use these units. With that aside, let's have a look at more...
Familiar examples of metric conversion
When you do the math yourself instead of using an online metric conversion program, you just multiply by the conversion factor. For instance, if you wish to convert from inches to centimeters, you need to multiply the number of inches by 2.54 to find the same length in centimetres.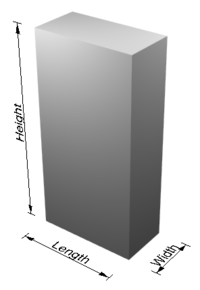 Three dimensions of length
There are 28.413 milliliters in an imperial fluid ounce, and 29.573 milliliters in a US fluid ounce. Simply multiply the number of fluid ounces you have by 28.413 (or 29.573) and use millilitres.
Mass is usually expressed in pounds or ounces in imperial or American units. One ounce is one sixteenth of a pound. Multiply the number of ounces by 28.35 to get grams.
Temperatures can also be converted to metric. Water's freezing point is 0 degrees Celsius, and its boiling point is 100 degrees on the Celsius scale.  Because zero is at a different place on these two scales, there's more math involved.
To convert a Fahrenheit temperature to Celsius, subtract 32. Multiply this number by five-ninths, or by 0.556.
You don't have to be a metric expert. With practice, everyone who likes science or engineering will understand these units.
Navigate back from Metric Conversion to the Image Satellite Weather page now. Or go visit the Stuff in the Air homepage.
Search this site for more information now.