The Weather Network
by Esther
(Milwaukee, WI, USA)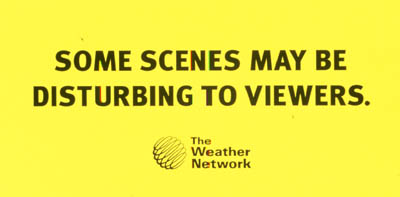 You never know...
I didn't know this website before, but I like this website. My husband was a meteorologist and he gave me another website for checking weather. Here is the link:


https://www.wunderground.com/
Compare these two sites, I would like Weather Network better because the geography makes it look better then the other one. In the part of radar animation, I think this site is definitely better, but if you want more info for meteorologist, the other one may be a better choice.
One thing I noticed is that this web open relatively slower than other one, but it is not so bad and very easy to find what you want. Over all, I like this website!
Barry's Response
- Thanks for that endorsement, Esther. As a
meteorologist,
I find each site offers its own unique but small advantage and check each one when the occasion I find appropriate comes up. This includes both of the websites you mention. Another one I have been recommending very lately is www.weatherspark.com. It provides a very unique spin on weather forecasts for data junkies.
Search
this site for more information now.
ADD TO OTHER SOCIAL BOOKMARKS:

Del.icio.us

Digg

Spurl