Global Cooling
by Philip
(Collingswood, NJ)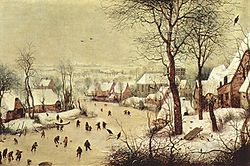 Winter Landscape with a Bird Trap
Do you have global cooling a graph of the average temperature per year over the past 2000 years? I am trying to get a handle on this issue for myself.


First, I am a sceptic. I like to understand unbiased data.
1) Of course we are warmer than 500 years ago, that was during the Little Ice Age that ended during our Civil War. In 1789 the Hudson River froze and people could walk on the ice from Manhattan to Staten Island. Do we want to go back to those cold temperatures.
2) On the wikipedia graph it shows 2004 average temperature .75 degrees warmer than the average temperatures in 2004 of the 8 sources. This is a big difference. How can this be? They should be the same.
3) The Little Ice Age appears to have only affected the Western Hemisphere. Since these are global average temperatures, it must have been much colder in the Western Hemisphere during this time. Is this global cooling right?
4) According to the graph (not 2004 average temp) it appears that we are about at the same temperature as 2000 years ago.
5) Have you looked at CO2 concentrations during the different Ice Ages compared to now?
6) It appears that the major greenhouse gas is water vapor, not CO2. Is this true? Do you have information on their relative responsibility for warming?
Thank you again for your time and attention.
Best wishes,
Philip
PS I remember clearly when all the environmental scientists stated that we were entering a global winter. The current hysteria appears to be manufactured with no scepticism as is necessary in a science.
Barry's Response
- My one web page, about
ancient climates,
has two graphs of the temperatures over the last 500 million years, but does not focus on the last 2000.
Philip refers to these on wikipedia.
https://en.wikipedia.org/wiki/Image:Holocene_Temperature_Variations.png
The second one, titled reconstructed temperatures, shows the time period you're looking for. It looks like a composite of several scientific guesses that all say the same thing basically. We warmer now than anytime over the last 2000 and certainly warmer than 500 years ago after a previous period of global cooling.
Search
this site for more information now.
ADD TO OTHER SOCIAL BOOKMARKS:

Del.icio.us

Digg

Spurl