Stayner Winter Wonderland
by Jo-Anne Crane
(Stayner Ontario)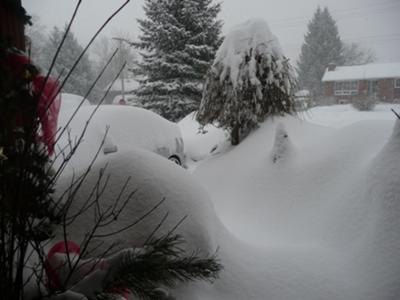 Winter wonderland in Stayner Ontario
This is what 3 days of snowing looks like in Stayner!

Barry's Response - looks like Stayner and surrounding areas near the Georgian Bay experience some serious lake-effect snows...typical of this time of year when the water is still open and much warmer than the air that flows directly over.

Nottawasaga Station, as Stayner was originally called, lies at the south end of the Georgian Bay, a little over an hour out of Toronto. This community and the rest of Clearview Township receives a good deal of this type of snow. Other regional names include "Cottage Country", the Georgian Triangle, and generally Central Ontario, and they all get winter weather like this on occasion.

Not only does that open water release vapour into the overlying air, it injects heat too. This mixture leads to abnormally high CAPE (convective available potential energy). It comes partly from the direct heat transfer and partly from the latent heat of the moisture.

That means the air can become much more unstable much more easily than otherwise, especially when interacting with wind shear and terrain effects. Instability and the convection that results from it become the method of wringing moisture out of an atmospheric parcel. And is there moisture available? Plenty.

Many leeward coastlines experience this result. Not just the ones in Canada. Enhanced mesoscale rainfall occurs in a similar way in warmer areas as well.

Have fun shovelling.

search this site for more information now.
ADD TO OTHER SOCIAL BOOKMARKS:

Del.icio.us

Digg

Spurl