Sunrise
by Dianna
(Lantzville BC Canada)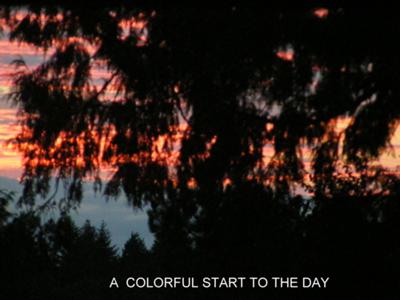 MORNING GLORY
5:30 am & couldn't believe the view. Made getting up early much easier. Pic's looking out over the strait toward Sechelt Gibsons coastline.Enjoy!!


Barry's Response
- Nothing quite like BC, is there? Interesting names in this part of the Lower Sunshine Coast, too. In addition to Gibsons and Sechelt, we have Halfmoon Bay, Pender Harbour and Earl's Cove. Thanks, Dianna, for the lively pictures.
Who's heard of Lantzville? This lovely little coastal Vancouver Island neighbourhood takes just 20 minutes or two to get to from downtown Nanaimo, about halfway from Nanaimo to Parksville. Nanaimo, at just over 80,000 is an hour-and-a-half out of the capital city of Victoria and about three hours, mostly ferry, from Vancouver.
The
climate
here is cool and maritime-Mediterranean with a drier season in the mild summer (with the temperature rarely exceeding 25°C) and a very mild winter by Canadian standards (overnight lows staying above freezing more often than not.) Extremes include the mid-30's in summer and about -20 in winter.
They also enjoy a good long growing season from March to the end of October. Winters, though, are stormy and rainy with occasional snow. The place is quite moist, with about 42 inches (just over a metre) of rain annually.
It's worth seeing sometime.
search
this site for
more information now.
ADD TO OTHER SOCIAL BOOKMARKS:

Del.icio.us

Digg

Spurl