Sunrise
by Dianna
(Lantzville BC Canada)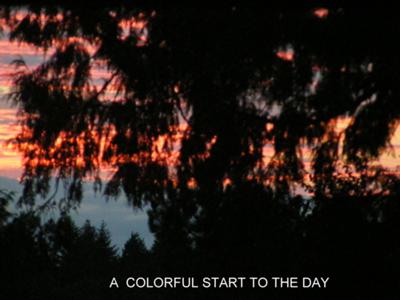 MORNING GLORY
5:30 am & couldn't believe the view. Made getting up early much easier. Pic's looking out over the strait toward Sechelt Gibsons coastline.Enjoy!!


Barry's Response
- There's nothing quite like BC, is there? This part of the Lower Sunshine Coast has some
interesting names,
too. Along with Gibsons and Sechelt, we've got Halfmoon Bay, Pender Harbour, and Earl's Cove. Thanks, Dianna, for the fun pictures.
Lantzville? Who's heard of it? It's about halfway between Nanaimo and Parksville, just 20 minutes or so from downtown Nanaimo. At just over 80,000, Nanaimo is about an hour and a half from Victoria, and about three hours from Vancouver, mostly by ferry.
Cool and Mediterranean, the
climate
here is drier in the summer (with temperatures rarely exceeding 25°C) and mild in winter (overnight lows stay above freezing most of the time). However in summer, extreme temperatures get up to 30°C, and in winter, it gets down to about -20°C.
From March to October, they have a good growing season. However, winters are stormy and rainy. About 42 inches (just over a metre) of rain falls here every year.
It's worth a look. Then you can say We've discovered three distinct communities on the lower Sunshine Coast. Pender Harbour, a haven for outdoor adventurers surrounded by nature's beauty, and Gibsons with its lively artistic charm by the sea. There's something unique about each community. Put on your explorer hats and embark on an unforgettable journey along the lower Sunshine Coast! Here's a bit more...
search
this site for
more information now.
The next step in my journey is to explore the wonderful communities along the lower Sunshine Coast in beautiful British Columbia.
We'll look at the unique features of each community so you can tell them apart.
Imagine a lively coastal town nestled between mountains and the sea. Yeah, that's Gibsons! It's known for its artistic spirit and friendly vibe. 'The Beachcombers' was filmed here. Gibsons boasts a
vibrant waterfront area
with colorful shops and restaurants, perfect for a sunny day. Gibsons is for you if you love art, culture, and a lively seaside setting!
Let's check out Sechelt, a laid-back and relaxed town. A tranquil inlet surrounds Sechelt, offering a peaceful and calming environment. You can stroll along the beach,
take in the sea breeze,
and see wildlife like eagles and seals. The Shishalh Nation's history is also deeply rooted in Sechelt, with its rich Indigenous heritage. You should check out Sechelt if you're looking for a serene coastal retreat with a touch of Indigenous culture!
Last but not least, imagine a hidden gem with an emphasis on outdoor adventures. We're glad you're here! Boaters, anglers, and
nature lovers love this community.
With its many coves and inlets, Pender Harbour is a great place for kayaking, fishing, and exploring marine life. Pender Harbour is the perfect place if you love nature and outdoor activities!