water pollution by human activities
by moses o
(midrand, johannesbourg)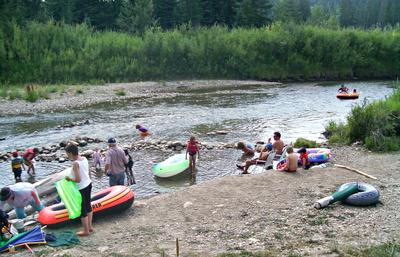 Hope this crowd keeps it clean
Protection of our environment must be one of the major subjects in our life because we depend on our environment. However, human activities result in many damages on the water quality.


I can advise that the South African government promote our environment protection on TV and radio programs. Or, why not by door-to-door visibility campaigning, because the new generation can't survive if we continue to destroy our environment like the way we have been. Our forefathers gave us a clean earth and we must also leave to our sons and daughters a clean earth.
Barry's Response
- Well, Moses. You do make a point. Our earth needs a little TLC at times. And we, as individuals, can provide it. Air, water, ground. Let's root for them.
This site is primarily about the atmosphere, weather and air quality, so let's look into that a bit further.
We want to reduce air pollution amongst other types, perhaps even first. In air, contaminants spread faster than they do within any other medium. So if we
clean the air up
we could be quite a bit of the way towards contributing to a cleaner ground and water surface as well.
Start by looking at the
causes of air pollution.
The usual things include fires, volcanoes, cars and factories.
Next, we might want to examine
things we can do to stop air pollution.
What can individuals do?
What about corporations
and governments.
As a third thing, you might have a
look at the progress certain cities have made
so far. Examples shown here show us an introduction of what the rest of the world can hope for in terms of improvements.
We can then expand on these ideas, which are quite primitive by today's standards. 21st Century research should provide us with more innovative solutions than ever before. I hope so.
search
this site for
more information now.
ADD TO OTHER SOCIAL BOOKMARKS:

Del.icio.us

Digg

Spurl