*** 20th Anniversary: 2003 to 2023 ***
Ecosystem Fresh Water, 
Air

and Earth: A Vital Connection

Search for more on our environment.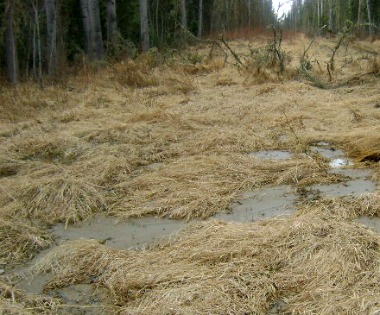 Spring water in the foothills
Ecosystem fresh water, geology, chemistry, and meteorology.  Site remediation and many other environmental jobs use these studies.  What do these sciences have to do with site remediation?  The purpose of remediation is to protect people and the environment from hazardous waste.  In order to determine the best remediation plan for a site, hydrology, chemistry, meteorology, and geology are all important aspects of the remediation process.
Check out this webpage to learn how fresh air ecosystems and fresh water ecosystems are interconnected.  Find out how geology, chemistry, meteorology, and hydrology are fundamental to site remediation, a process that safeguards the environment and public health.  
It's imperative to understand the importance of site remediation and lend your support to it.  Discover how hydrogeologists and scientists solve environmental problems, and how they can restore pristine sites.  Discover this critical nexus of science and environmental protection - check the links here to learn more.
The public cares about site remediation because contaminated sites can pose serious health risks.  Remediation is cleaning up contaminated sites to protect public health and the environment.  Therefore, it's important to understand the importance of site remediation and support efforts.
Site remediation involves using the expertise learned while studying these sciences.  Hydrology studies the movement and distribution of water on the surface and under the earth.  It's crucial to understand hydrology for site remediation because it helps identify contamination sources and pathways.
Meteorology studies the atmosphere and weather patterns.  In site remediation, weather patterns can affect contaminants' movement in the air and soil, and they can also affect how effective remediation strategies are.
Geology studies the earth's physical structure, composition, and history.  Site remediation depends on geology because it helps identify the type of soil and rock formations at the site, which can affect the movement and retention of contaminants.  
Have you got a property that may threaten the surrounding environment? 
Do you worry that surface soil might contaminate or leach into other soil below?
Site remediation may be the answer.  These problems can be solved by hydrogeologists and other scientists and engineers.

Remediation involves cleaning up and restoring contaminated sites to their original state or to a state that's safe for humans and the environment.  Regulatory and environmental standards require that hazardous substances, pollutants, or other contaminants in soil, groundwater, surface water, or air be eliminated or reduced.
Site remediation aims to prevent further contamination, protect human health and the environment, and restore the site to its original use or an appropriate alternative.  Remediation is typically needed for sites that have been contaminated by industrial, commercial, or residential activities, like landfills, former factories, gas stations, and dry cleaners.
During site remediation, contaminated soil or groundwater can be excavated and removed, treated in place, and monitored to ensure contaminants don't migrate or re-emerge.  A remediation approach depends on the nature and extent of the contamination, the location and characteristics of the site, and the regulations and environmental rules.
What kinds of things threaten the fresh water ecosystem?  Here's a start:
leaks and spills

chemical contamination
water and soil pollution
creek and stream influx
ground, water and well contamination,
...for example.
Leaks, spills, chemical contamination, water and soil pollution, creek and stream influx, and ground, water, and well contamination can negatively impact the environment, human health, and wildlife.  Globally, these problems are prevalent.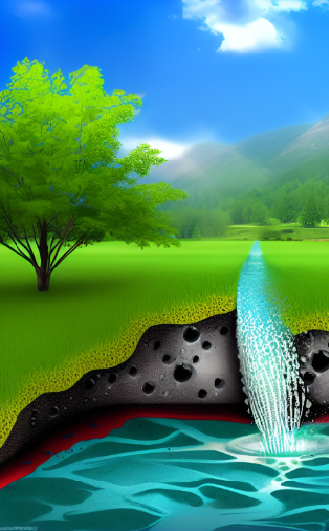 clean fresh water
Water and soil pollution can be prevented by preventing leaks and spills.  Regular maintenance, employee training, and proper storage methods for hazardous materials can help prevent these leaks and spills.  In addition, spill response plans and regular inspections can help prevent or minimize the impact of spills when they occur.
Reduce the use of chemical fertilizers, pesticides, and other harmful chemicals in agricultural and industrial practices to prevent creek and stream influx.  Reducing impervious surfaces and urbanization can also help reduce pollution.  In addition, proper wastewater treatment and stormwater management can help reduce contaminants in waterways.
By implementing measures like proper waste disposal and using eco-friendly, non-toxic chemicals in industries, you can prevent contamination of the ground, water, and wells.  In addition, regular testing of groundwater and wells can help detect contamination early and prevent further contamination.  Contaminated sites can also be cleaned up with remediation strategies like soil excavation, phytoremediation, and bioremediation.

Decide which clean air and water acts apply to you.  Weighing and managing risk alternatives is key to choosing the right approach.
This Stuff can be Pretty Gross
What's the worst you've seen? Anything you need to let us know about? Maybe even a picture to demonstrate what you saw. You can send it to StuffInTheAir.com right here.

This is important.
Previous Examples
Click below to see contributions from other visitors to this page...

Ecosystem fresh water - environmental services,
There's more to this subject than just research and development.  When it comes to environmental management, you might have to negotiate with government officials.  Using pH soil testers and soil samplers, they might result in simple monitoring programs.
You can identify environmental liabilities with empirical data, like air pollution potential or water pollution causes.  These discussions might lead to something much more involved.
To remediate sites (and preserve our ecosystem, water, air, and soil), there are a bunch of options.  Good consulting firms can help with site remediation, regulatory applications and environmental approvals.
Environmental remediation usually starts with a Phase 1 Environmental Site Assessment.  They look at the site's history to see if there's a problem.  Any serious threat can be confirmed or denied with a series of tests.
Contractors come in and replace soil if necessary.  Hopefully it won't go that far.  You can find environmental consulting firms in your local directory.
You can prevent or minimize the negative impacts of chemical contamination, water and soil pollution, creek and stream influx, and ground, water, and well contamination by preventing leaks and spills, reducing the use of harmful chemicals, implementing proper waste disposal methods, and regular testing and monitoring.
To ensure that contaminated sites are cleaned up properly and efficiently, hydrology, meteorology, and geology are all important considerations in site remediation.
Jobs in these areas plus biology, water quality, and industrial design.  Our Environmental Health and Safety Jobs page can help you find the right one.
Go back from Ecosystem Fresh Water to the Environmental Health and Safety Jobs web page, or visit the Stuff in the Air homepage.
Search this site for more information now.