*** 20th Anniversary: 2003 to 2023 ***
What is this fundamental fact about global warming?
More about global warming.


Number one
fact about global warming
: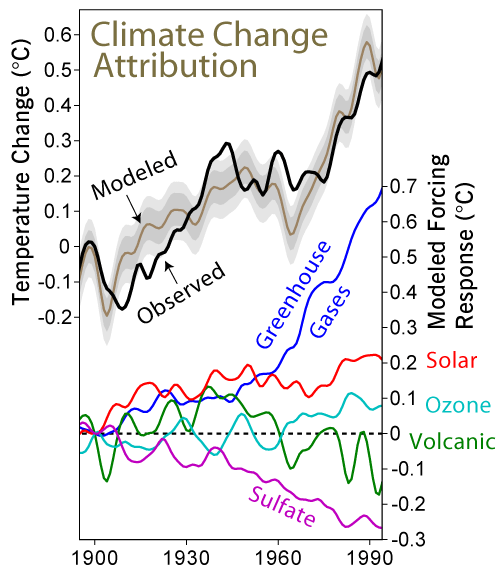 The atmosphere surrounding our planet has warmed anywhere from 0.5 to 1.0°C (1 to 2°F) over the last century or so. There is considerable belief that this small amount may make a huge difference.
Another important fact:  My firm does Greenhouse Gas reporting for many industrial clients.  If yours need an new consultant to take this on contact Barry for Calvin Consulting Emissions Management.
It has been repeated that this temperature difference could cause glaciers to melt and, potentially, sea level to rise. We could see even more of this in the future, maybe another 3°C, (or 5°F).

So the story goes. This is a common projection put forth by many. The inconvenient truth is that we don't know exactly, not even Al Gore, and we may be surprised by the results we actually do see.

A definition of global warming would have to include a measurable, consistent temperature rise, like the one we have seen in recent history.
But one question remains – Is it an unusual, an anthropogenic, change? Much debate about this one continues. That's a definite global warming fact, no matter what anyone tries to say to the contrary.

More important info on global warming:
Here's an even better one: is it catastrophic? Could be. Yes, we will see coastal flooding, perhaps over large tracts of land as is projected for Bangladesh. People adapt. They move. The build retaining walls. We have done it before.
Here's a bit of the science. The global warming green house effect really is a bogus term. A greenhouse keeps warm by physically trapping the air inside and preventing convection. The atmosphere helps keep the planet warm by impeding outgoing radiation instead.

The earth gets one kind of energy, visible light primarily, from the sun and gives off another kind, infra-red radiation. This second type is what gets trapped by "green house gases" (GHG's) in the atmosphere.
Bonus fact about global warming:
The leading gases that help the atmosphere trap outgoing heat are Carbon-dioxide, Methane, Ozone and Nitrous Oxide and above all, WATER VAPOR. Gas analyzers show the concentrations of this stuff have increased somewhat since the beginning of the industrial revolution.
What's the latest in Global Warming?
Not everything is covered on this website. It can't be. If you know something you're itching to tell the world, here's your chance. I'm all ears.

Go ahead.
A few previous facts...
Click below to see information from other visitors to this page...

Other options made easy
See information about the Kyoto Accord here.

See other Air Quality facts and global warming articles. You might find this information good for your research projects and global warming essays.   Go back from Fact About Global Warming to the Solution Global Warming webpage now.

Search this site for more information now.