Woodland pictures - What can you learn from rain forests?
Search for more about ecology.


The great wilderness. Limnology.
Rain forests.
Ichthyology.
Meteorology.
Topography. Botany. How do these ecological concepts all fit together? The study of forestry of course. The woods and vegetation all over our world greatly affect the quality of the air and vice-versa.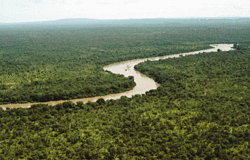 They all come together in the study of forestry. Rain forests have great amounts of rain, making them the planet's richest ecosystems, with millions of species yet to be identified.
We have both tropical and temperate rainforests. The tropical forests lie in equatorial countries such as Indonesia and neigboring nations in asia, northern Australia, several in central Africa and more in South America. Most tropical islands bear rain forests as well. Temperate rainforests exist elsewhere in the world. Cooler places with plenty of rain. Northwest North America, for instance. They also cover parts or Europe, temperate Asia and Oceania.
What is the Boreal forest of northern Canada (shown below) and Russia? A Snowforest?
What discipline studies forests? Forestry of course. Here we learn how to manage our forest resources. And if we are interested in trees, forestry people might work in silviculture (maintaining forests for optimum usage).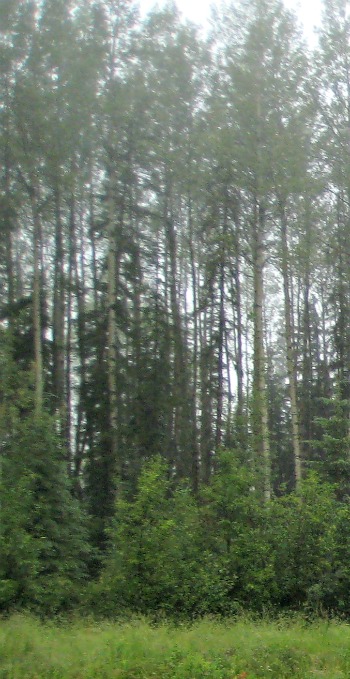 What do forestry professionals do for our rain forests?
Help keep the forest healthy. They find out how to make it a good wildlife habitat, giant water purifier and commercial wood source.
We love our forests for camping and recreation, their natural beauty, economic resource, and perhaps carbon dioxide sequestration, its removal.
Some environmental problems require expertise from many areas of study to remedy. Our universities fulfill that need by offering courses of interdisciplinary studies in environmental applications.

These exceedingly complex situations may involve ground water, well contamination and surface water pollution information. Engineering consultants work with different type of soils, air, wildlife and vegetation research.

Also, the influence of these factors can extend for many miles through our temperate and deciduous forests and into other wetlands. There often exists no established way of dealing with them and, as a result, innovative solutions are needed to produce the desired results.

Project planning entails extensive
negotiations,
details,
plans and
objectives.
Consequently, specialized knowledge of the sciences, engineering, legislation and even public relations all constitute an integrated approach to these problems.
This Stuff can be Pretty Gross
What's the worst you've seen? Anything you need to let us know about? Maybe even a picture to demonstrate what you saw. You can send it to StuffInTheAir.com right here.

This is important.
Previous Examples
Click below to see contributions from other visitors to this page...

Research development services
Finished your studies? Find perfect environmental science jobs on the Environmental Health And Safety Jobs reference page. Or visit the Stuff in the Air homepage.


Search this site for more information now.